Podcast: Play in new window | Download
Shannon Garson | Episode 138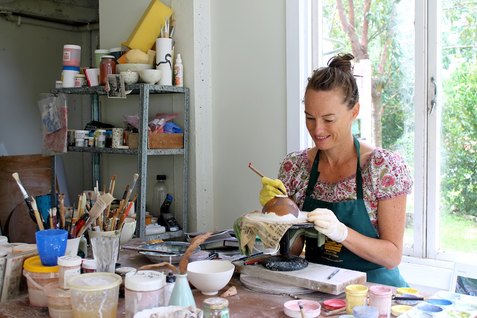 Shannon Garson is an Australian ceramic artist specialising in thrown, decorated porcelain. Her work is available at galleries and stores and in her online store.
Shannon's studio is based in a small rural town of Maleny in the hinterland of the Sunshine Coast. Each piece of porcelain is unique, the result of many hours work. In add
ition to her artistic practice Shannon runs innovative workshops incorporating nature in porcelain and surface design for schools and small groups.
Shannon's drawings about the strange beauty and wonder to be found in the marginalized eco-systems of the littoral zone. Details of shorelines, rock pools and coastal wallum scrub are revealed in the sgraffito and oxide drawings that crawl over the surface of these delicately thrown porcelain vessels. Exhibition work is available from these galleries.
"I want the surface of the pot to be part of the drawing, not just a surface for the drawing to sit on. I want the whole pot to be experienced, from the weight of it as you pick it up, the texture, the drawing, colour, smoothness of the glaze, all the elements draw the viewer into experiencing the vessel."
SPONSORS
Number 1 brand in America for a reason. Skutt.com
For all your ceramic needs go to Georgies.com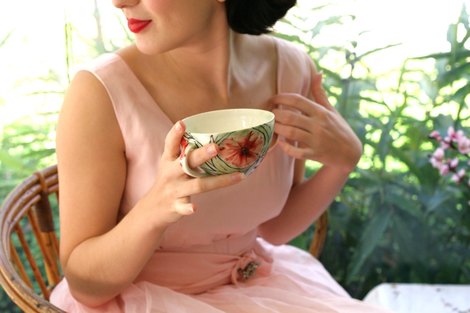 HOW DO YOU SEE YOURSELF AS A BUSINESS PERSON, DO YOU SEE YOURSELF AS AN ENTREPRENEUR OR A MANAGER?

An entrepreneur, definitely.
SO HOW DOES THAT PLAY OUT AS A POTTER?
Well, I am always thinking of ideas, One of the reasons I do things is to connect people to the artists in their community.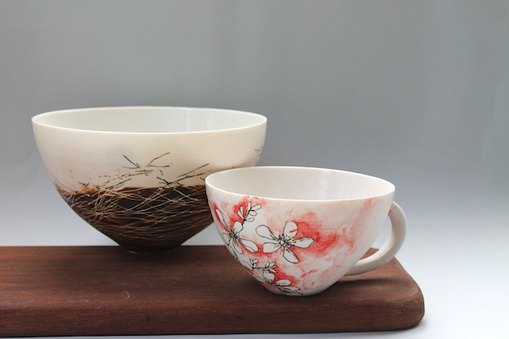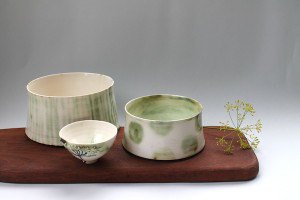 WHAT DO YOU DO ON A DAILY BASIS TO GROW YOUR BUSINESS AS AN ENTREPRENEUR?
I think quite carefully, recently for a few years I realized I had been sending work away to galleries and such in other parts of Australia. I open my studio once a year for a sale but I hadn't been doing much in my community. I started actually hiring this lovely, little building on the main street doing pop-up galleries every so often just to connect back with my community. Everything is about connection really. It might up as business or it might end up as connection.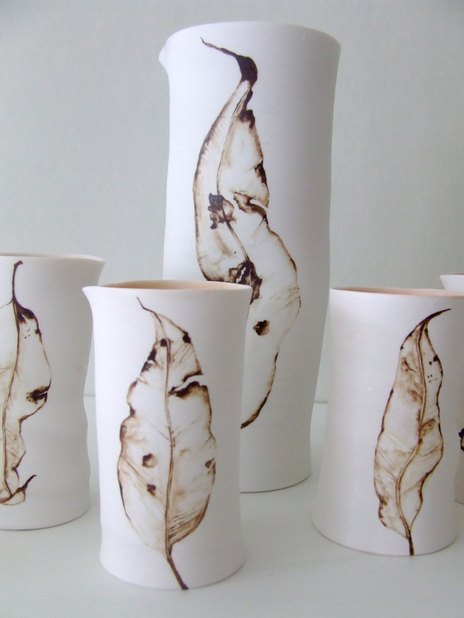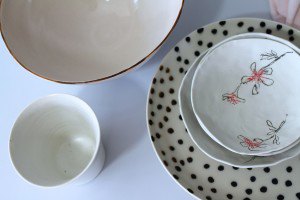 WHAT ARE SOME OF THE HACKS YOU USE IN YOUR LIFE TO MAKE SURE YOU ARE PRODUCTIVE?
Well I've got that creative framework I was talking about earlier, so that is something I always do when I go to exhibition work. I go to a place, take photos, and then come back to the studio and throw in response to the photos. Something else I do is , once a fortnight a person comes to our house and mops the floors and cleans our bathrooms. It is absolutely fantastic. If you could only afford to do this it would save your life as an artist.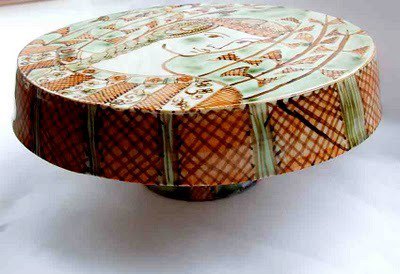 WHAT IS YOUR MAIN STRUGGLE RIGHT NOW?
The main thing I think I struggle with is that it's hard to connect my work to people who will really use it. It is partly because in Australia, craft literacy has really become lower and lower over the years. A lot of people don't even know how stuff is made anymore.
WHY IS WHAT YOU ARE DOING IMPORTANT?
Because it's important to surround your self with objects that you use every day that have meaning. Being surrounded by meaningful objects connects you to your own history and with other people.
BOOK


Creation Out of Clay 
CONTACT 
www.shannongarsonporcelain.com.au