Podcast: Play in new window | Download
Sam Scott | Episode 165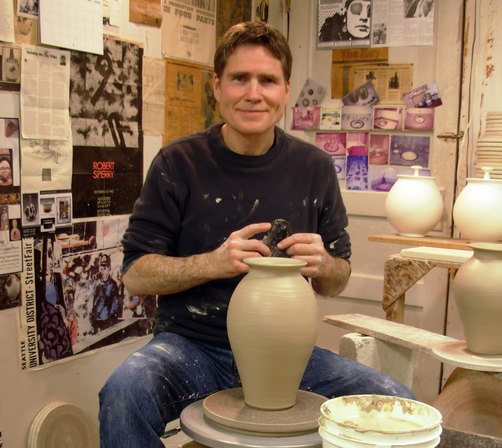 Sam Scott has been a ceramic artist working in Shoreline, WA since 1968. After graduating from the University of Washington and setting up his studio in 1975, Sam has continued his studio practice and taught at area colleges. Sam's work consists of three distinct styles including functional and non-functional objects.
SPONSORS
Number 1 brand in America for a reason. Skutt.com
For all your ceramic needs go to Georgies.com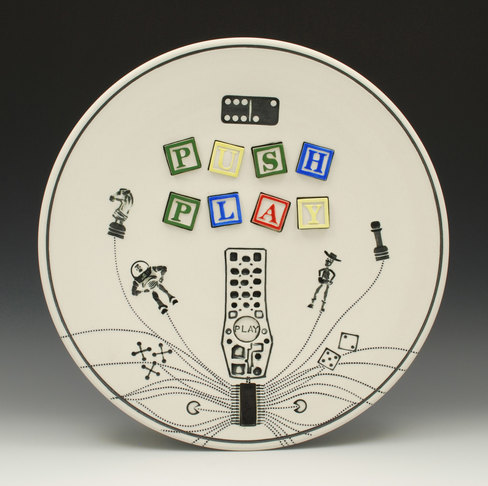 AFTER 47 YEARS IN CERAMICS YOU'VE SEEN A LOT OF CHANGES; WHAT ARE SOME CHANGES THAT YOU LIKE THAT HAVE HAPPENED IN THE CERAMIC WORLD?
There is a bifurcation (a division of something into two branches) in ceramics that has always existed whether you are making functional work, which would be craft, or making art, which is defined by not being functional. When I started in the 60's and 70's, it was just starting to create these two avenues. The ceramic world has grown what is not functional so that is why we are called ceramic artists now and not just potters. This is a good thing. The work is wonderful, the quality is incredible. But no one, in my view, has been able to meld those two worlds.  There is still the idea that art is not functional and functional is not art. I think that ceramics has grown over that time and that there is a whole lot of functional and non-functional work that has matured over that time.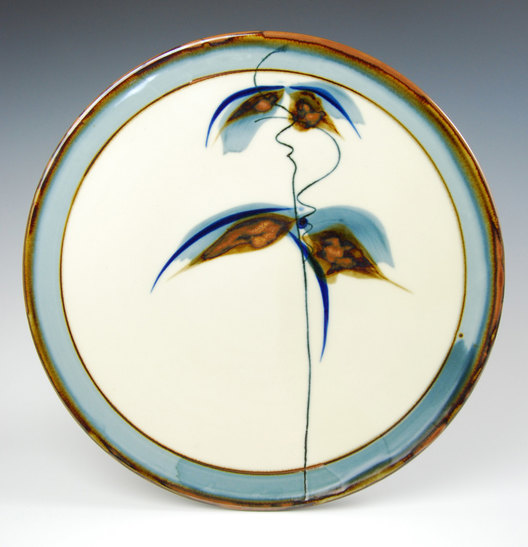 WHAT IS SOMETHING THAT HAS CHANGED OVER TIME THAT YOU DISLIKE?
Change is inevitable. I don't like to change. I think that as an artist the main thing you do is problem solve. A lot of change that people go through is forced upon them- material changes, something is not turning out the way you want it to… So you are forced to deal with that and often times new work and new directions pop up that you wouldn't think of. So I don't really see any negative changes. There were difficult changes like for years there were photo slides of my work and now slides are valueless. Now it's all digital. That was not an easy change to go through as someone that had been collecting slides for 10 or 30 years. It's a good thing because now you don't have to pay for duplicates with digital images where as with slides it was more costly and time consuming. So there was a change that was difficult to go through, but ultimately it was not a bad thing. It just wasn't fun to go through, but then I think most change is probably that way.
SAM YOU ARE OLD SCHOOL, BUT RELEVANT. HOW DO YOU KEEP RELEVANCE ALIVE?
One is teaching because you're seeing young people all the time, you're seeing them evolve in ideas, and that is a nice connection. Seeing other people's work is a great connection, which is a result of that digital change. It is a whole lot easier to go online now and investigate other's work and who's doing what. Back then you had to have books which takes years from the time you come up with an idea and when it is finally published. Now somebody wants to put an image of something on Pinterest and there it is! The world sees it. So seeing all this work that is out there will somehow impact you in some way that you are not aware of. So this is another way to keep relevant is to see what other people are doing. But the biggest thing is doing honest work that is your work and keep doing it.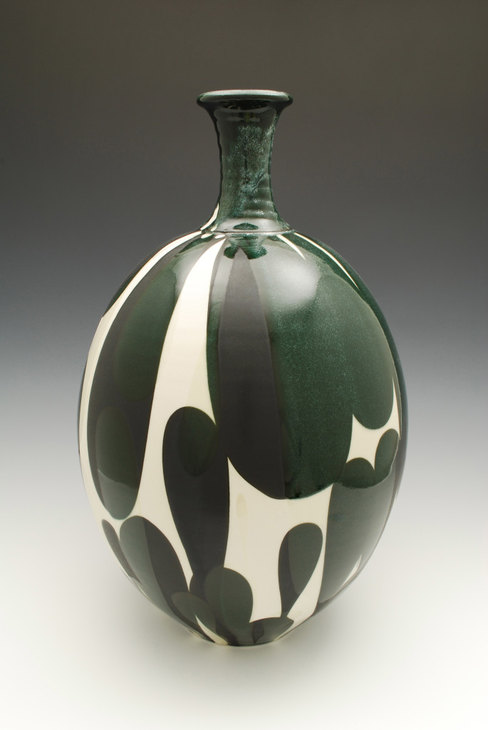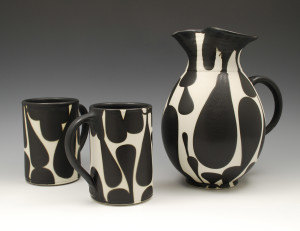 HOW DO YOU DEFINE "HONEST WORK"?
It's not fabricated because someone says you should do this or "This is how you do this." One good example: The biggest impact on my work was Bob Sperry. He was head of the ceramic department at the University of Washington when I went there, and he was, in fact, the reason I went to the University of Washington. I saw his work and at the time and he was doing brushwork and that is what enthralled me and is what I went to the University to learn from Bob. He taught me how to make brushes, how to approach the surface of a pot, how to glaze it… When I was doing that, like most students, my work looked like Bob's. But by the time I graduated I could see that I am not Bob. My work began to look like me. It was still brushwork. My brushwork was much tighter than Bob's and was not as loose, it was not as manic. At that point I realized, That is me. That is my voice.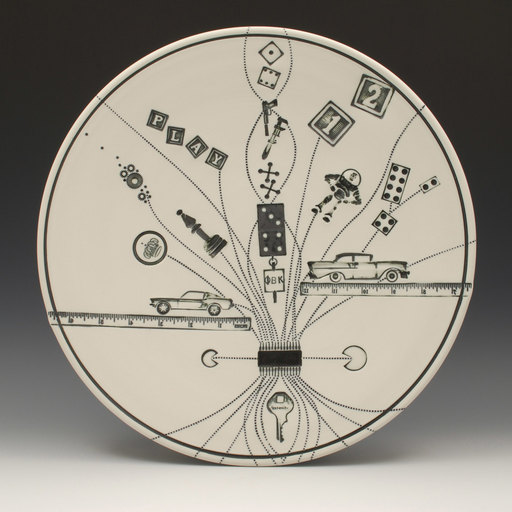 IF YOU WERE TO TRY TO EXPLAIN YOU SOMEONE ELSE, HOW WOULD YOU DO THAT?
One of the things that is important, as I mentioned earlier, is problem solving. I think I am a pretty good problem solver. I persevere.  Making art or doing any solitary activity, especially in this world where there is no reason to make pottery because you can buy Tupperware for food and you can buy commercial stuff if you want ceramics, you have to persevere. So I persevere. And it's a lifestyle choice. So when I think me or my work, they are one and the same. The work is tight, clean, controlled… That's kind of who I am. When I look at the work, I see me.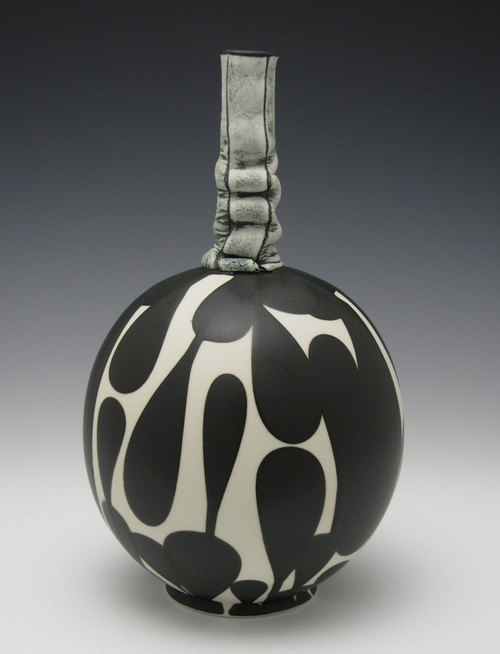 I LIGHT OF ALL THE YEARS YOU'VE BEEN A MAKER, WHAT HAS BEEN YOUR FAVORITE ERA?
That is kind of like asking which is your favorite kid, but I would say when I went to the University to learn brushwork from Bob and when my brushwork became mature, it was an accomplishment to me. Brushwork is what I love because I am a doodler. My pots tend to be simple forms with some kind of surface treatment on them; I just can't keep myself from doing something on the surface. Then as time went on and the work became identifiable, I arrived at the black-and-white work and it was so different. At that point in my life it was communicating who I was- it's tight, clean controlled. Then I started doing these impression plates which communicate thought and ideas that are obviously art and not functional area of my work. And this allows me to express that part of me. I don't know that I particularly like one phase more than the other, but when the work became mature in each of those categories, that's what I like.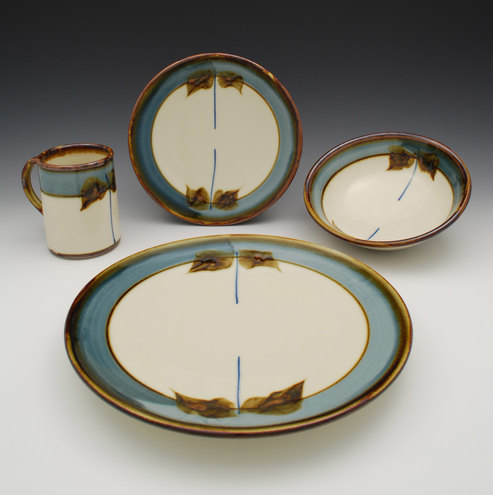 BOOK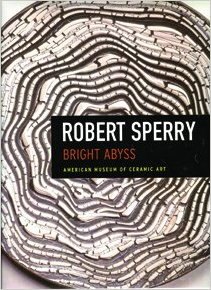 Robert Sperry: Bright Abyss by Matthew Kangas
CONTACT