Podcast: Play in new window | Download
Tim See | Episode 178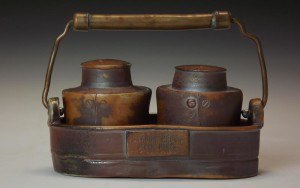 Tim See fancies himself as a studio potter that loves wood firing. Tim's work is primarily wheel thrown industrial forms, decorated with a sprawling narrative. When Tim is not stacking wood, he teaches at a wonderful studio called Clayscapes.
SPONSORS
Number 1 brand in America for a reason. Skutt.com
For all your ceramic needs go to Georgies
When you are talking social media do you have a target audience?
Mostly potters.
How do you attract followers/likes?
I do not make an attempt to attract. I post content, I try to make the content as rich as possible. If likes happen, likes happen, I don't feed off of the likes. I guess for me, my business, the way I want to be viewed online, I generate the best content that I can to get people to like and follow my pages.
So what topics do you tend towards that give value on social media?
Most of it is how to make, so the making aspect of it. The last year has been a lot of decorating parts of it. Last year we did the visiting pots program. People sent us pots and we fired them and then sent them back. It got a lot of attention but I really just wanted to share wood firing with more people.
If you are going to form a group how do you get the participation level up?
First thing is, check and see if the group already exists. Rather than starting your own group about your interest, see if there is already a group for it.
If you could sum up all your ideas about social media manners what is your number one piece of advice?
Give. Be a giver not a taker.
The Craft and Art of Clay by Susan Peterson
CONTACT
Instagram: @TimSeeClay