Podcast: Play in new window | Download
Sarah O'Sullivan | Episode 184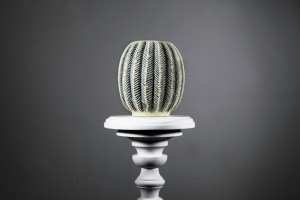 As part of her undergraduate studies at the National Art School, Sydney, O'Sullivan spent a semester on exchange at the Glasgow School of Art, Scotland, where she learnt and refined a number of industrial ceramic processes such as designing and printing decals, plaster model/mould making and slip casting.  These skills have stayed with her and form the foundations of her current art practice.
O'Sullivan focused her 2012 Masters of Fine Art research project on Australian imagery on porcelain. During this study she undertook a three-month internship at a remote Indigenous Art Centre in Ikuntji, NT. Since completing her MFA O'Sullivan has exhibited at the 4th ASNA clay triennial in Pakistan, had her work toured through the Emporio Armani stores in Australia, selected as a finalist for Qantas Spirit of Youth Awards and held a solo exhibition at Sabbia Gallery, Sydney and Craft Gallery, Melbourne. O'Sullivan has just returned from a mentorship with Sung Jae Choi in Gimhae, South Korea.
SPONSORS
Number 1 brand in America for a reason. Skutt.com
For all your ceramic needs go to Georgies
Who is your hero?
My hero is probably my mum. Yeah. She's wonderful.
What motivates you to work hard?
I would like to say that I'm really loving what I'm doing. But there are only a few moments that I'm loving. The rest I'm like sanding, mixing slip, and loading the kilns. I'm not in love with those, but it's jobs that I know I need to get done to get to the bits that I love. I always feel like I have a good work ethic. Like I can keep at it. I think I'm just striving to always get to those good bits.
What would you change about your business if you could? 
I would get a bigger space. A bigger studio. I'm actually in the process of trying to get a bigger studio. I feel like people tend to work to the space that they've got. And I feel like all my work is of a particular scale.
What did you say 'no' to so that you could say 'yes' to clay?
To be honest, I really can't think of any. I think I've just really put my mind to saying 'yes' to clay and I forget all the 'no's.
If you were to win the lottery today would you continue making clay? 
Yes! 100%. I think about this all the time. If I had a million dollars I would get that little bit bigger studio and kiln and have less pressure getting it out there.
What do your friends think of what you do? 
I think that they're proud of me. I have a lot of friends that I went to art school with that have gone into jobs like arts administration or completely different jobs. I think that they look at what I do and they're proud and impressed by it.
Do you think most potters work in CROCS?
I don't! The three potters that are in the studio next to me don't. And I've just been away on a residency with twenty potters and only three of them were wearing crocs.
Contact
Instagram- @porcelainfork