Podcast: Play in new window | Download
Brandon Schwartz | Episode 208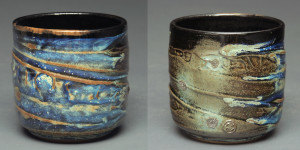 Brandon Schwartz is a full time Title 1 teacher, husband and father. He is also a part time potter, photographer, and designer. He grew up in Brooklyn, MI, earned an Art Ed degree at Huntington University and currently lives and works near Goshen, IN. He is currently focused on wheel thrown, functional pottery fired to cone 6 in oxidation.
SPONSORS
Number 1 brand in America for a reason. Skutt.com
For all your ceramic needs go to Georgies.com
How do you find inspiration for your work? 
I would say I look at a lot of other potters for inspiration. Especially potters who are around here in my area. And then other things that I enjoy like nature or just things I see on TV or pop culture. Just anything I see around me.
How do you balance being inspired by others and being a plagiarizer of others? 
Usually what I do is I see something and then I want to try it myself. Then from there if I can master their technique, I can kind of make it my own with other inspiration. Maybe some inspiration from different sources.
What part of the making process do you love the most? 
I have to say throwing is probably my favorite. I do like firing. I get into some of the wood firing. We got a couple of wood kilns around our area so that's a lot of fun.
Why clay? 
Actually right after college I into clay and painting. So I did a lot of painting. Especially when we lived in our apartment we didn't have room for the wheel. But then when we got our house I just picked up clay again. I just like the functionality of it. I just feel like something made out of clay you can use. Anybody kind of understands the basis for it.
What's your favorite social media platform and why? 
Well I have to say blogs because I really enjoy reading the blogs. I really like Instagram because it creates some content for my other social media accounts. It's kind of a handy little thing to connect them all.
How do you build a site that draws traffic? 
Well I read in a number of places that content is king. So I guess just good interesting content that people are either looking for or find interesting.
Book

Platform by Michael Hyatt
Contact
Instagram: @artbyfuzzy