Podcast: Play in new window | Download
Jessica Putnam-Phillips | Episode 224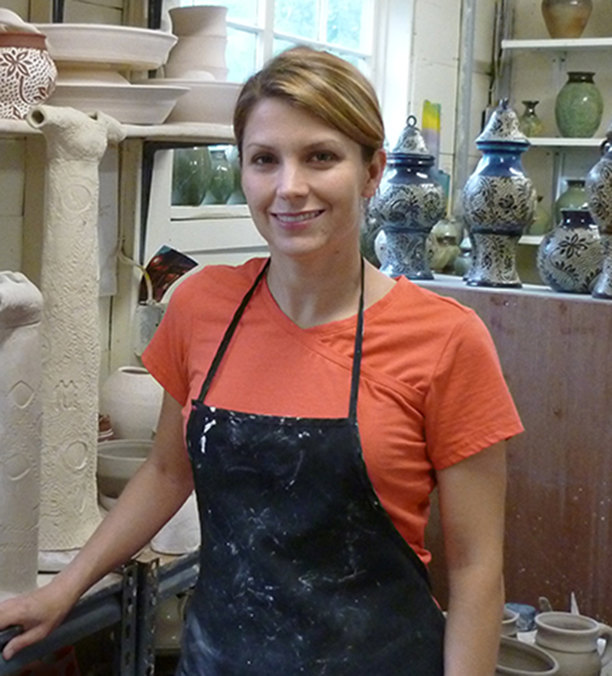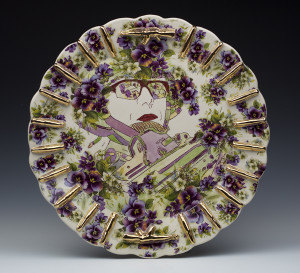 Jessica Putnam-Phillips is a ceramic artist, USAF Veteran, illustrator and activist. She received her MFA from the Art Institute of Boston and her BA from UNC-Wilmington. She was a resident artist at SCAC and recently attended residencies at Haystack and AIR Vallauris. She currently teaches ceramics at CCV and VAE.
SPONSORS
Number 1 brand in America for a reason. Skutt.com
For all your ceramic needs go to Georgies.com
Should all art work have a message?
I think all work has to have meaning. You shouldn't just make it mindlessly. It doesn't have to have a blaring social commentary along with it. Maybe it's just a really wonderful cup that is great to drink out of and fits the hand so nicely- I think that's enough. What I was saying (during the podcast) was mostly what I heard in grad school that was hammered into your head. But when you get out, you kind of dilute everything down and time goes on and you kind of relax a little bit. Then you realize there is a message in work that is not maybe so obvious.
How do you find your message?
I drew on what was personal to me. They say, What is personal is universal. I didn't feel that I had anything to say; I din't think that my story was any different from anyone else's. I thought, Yeah, I'm a woman who served in the military during war time, What do I have to say? Doesn't everybody do that? I didn't think that anybody really wanted to hear about it or to look at it. I found that once I started making the work that I would get letters and emails from other female veterans who would be thanking me for making this work and putting their story out there. My story was also their story. So I was bringing awareness to them and their experience.
Can art really make that big of a difference?
I think so, yes. And I think ceramic artists and potters are very community conscious and socially conscious people. So I think as a group and a whole we want to make a big difference.
How do you go about marketing your work?
That is always a question, isn't it?! Currently I have some galleries that carry my work. I have actually been thinking about whether I want to keep going the gallery route or if I want to do more self-promotion and sell the work myself. A lot of my work is in museums and it's not for sale- it'll be part of an exhibition and it'll be there for six months. I just had a show that closed after a year-and-a-half at the Craft and Folk Art Museum. There were thirty-six pieces in that show and it was just for looking, not buying (although I did have some enquirers come from that). But I think this is something that we all struggle with in terms of how to market your work.
What is the trade off between going gallery versus self-promotion?
If the gallery is a good gallery and they represent you well and they work really hard to sell your work and find clients and collectors, then it's wonderful. You can just make the work, send it to them, and they do the rest. Now if you don't have a gallery that is like that, then you have to do all the work yourself and you don't have material tied up in a gallery just sitting there.
What is a favorite tool that you use?
One of my favorite tools is my Sherrill Mudtools yellow rib. I use it all the time. I just started using those ribs in the last three years. Before I would a metal rib for smoothing surfaces, and they were great but I would sometimes nick the clay with it. But these rubber ribs are so smooth and nice… they just changed my world.
What piece of advice were you given that turned your ceramic making world upside down?
One of my first professors told me that it took her two years to figure out how to pull a handle. She didn't expect anybody in her class to figure out how to pull a handle in her class. Something in that just kind of kickstarted me to pull as many handles as I could. So I would make a bowl and just cover it with handle- I would have ten or twelve handles on one bowl. And I'd do that over and over and over for about two weeks until I felt like I could make a descent handle. I've kind of taken that approach to everything that I do when I'm trying to learn something- keep doing it over and over and over again until I get it. So because of her saying you can't do it, it made say, Yes I can do it or I will do it. So I did it.
Book
The Accidental Masterpiece by Michael Kimmelman
Contact
Instagram: @JessicaPutnamPhillips