Podcast: Play in new window | Download
Nikki Mizak | Episode 228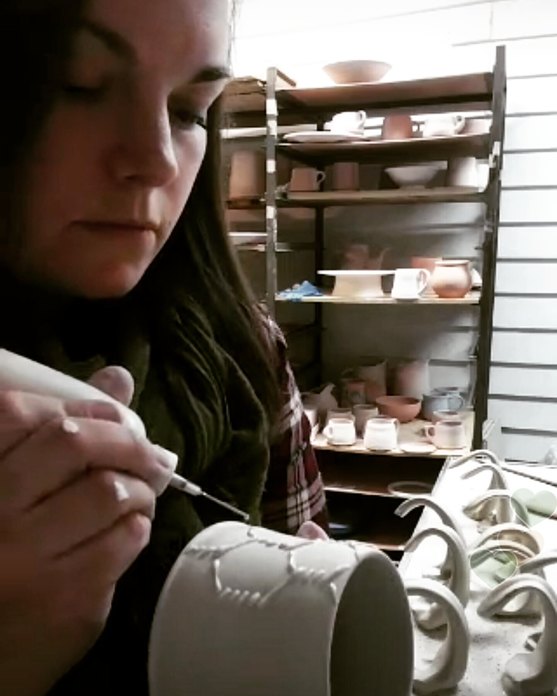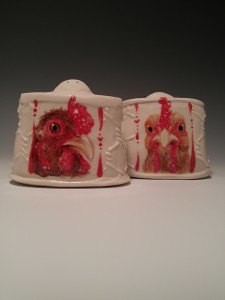 Nikki Mizak is a potter in North Carolina who makes functional pottery featuring hand painted animals and slip trailed texture. Nikki finds inspiration in nature so Nikki features chicken in much of her work. She has a real talent at capturing the individual chicken's personalities on her pots. 
SPONSORS
Number 1 brand in America for a reason. Skutt.com
For all your ceramic needs go to Georgies.com
How important is your business to the family?
My daughter loves creating and she has been painting since she could hold a paint brush. So it's nice that I can see a lot of myself in her. She loves pottery. She likes to come out and stamp in it. The business helps her to see that it is okay to be an artist. I don't think a lot of people grow up with that. She also has a great appreciation for pottery. I have a couple pots from Carole Epp and they are her favorite plates to use. One of my friends was asking, Why are you letting her use that plate?!! And I explained that she appreciates it knows that it is beautiful pottery and she takes care of it. So it teaches her about the importance of handmade things.
How important is it to you that your children have the role model of a working mom?
I think it is really important. Being the spouse of a person in the military, it was really important for me to have my own thing. I found myself getting lost in his everything. Every event we went to was an army ball or an army event. That's great as long as I could maintain my own self. I kind of started to lose that. So last year I went to my first potter's conference in North Carolina. There was a night during the slide talks when I looked around and said, These people are all my people. They were gushing over this plate on this slide show just like I was. It wasn't about stuff that I didn't understand. So I felt really at home for the first time in a while.
How has being a maker changed your outlook on life?
Every morning when I have a cup of coffee or juice or whatever, I will sit there and hold the mug of the person I got it from. I get a real satisfaction of experiencing that every day and discovering new fun things about each pot. So I guess that I feel honored to be a part of that in people's lives. They actually want to spend their hard earned money on something that I made and bring it into their daily life.
Do you feel that your life is richer with chickens on your work?
How could it not be. Anybody that has chickens knows that when  you go out to get the egg says, Oh, look! There's an egg! Every time I get one I say thank you to them. When my husband first got home, he asked if I was talking to the chickens. I said that I was thanking them because they made the eggs. And  he said I was so polite. So yes. If you get to do what you love every day, then it's pretty awesome.
What is your goal for the next 5 years?
I think I'd like to continue to work on my craft and grow and try to put myself out there. I like to enter shows just to keep that challenge up and stay current with things.
Book
The Little Red Hen by Paul Galdone
Contact
Instagram: @JuneBugPottery