Podcast: Play in new window | Download
Risa Nishimori | Episode 231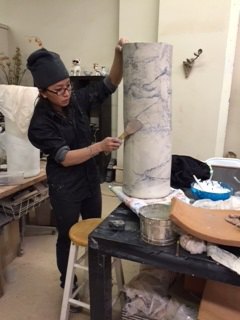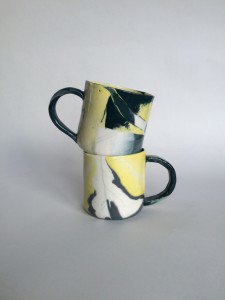 Risa Nisimori has been working and teaching ceramics at her studio, N.Y. Togei Kyoshitsu in New York City. Risa studied proper wheel throwing in Japan, but Risa's preferred method is Nerikomi, using different mixed clays and creating new and interesting patterns.
SPONSORS
Number 1 brand in America for a reason. Skutt.com
For all your ceramic needs go to Georgies.com
How do you continue to stay inspired?
I get really excited when somebody that I have taught kind of pursues it themselves and then creates something new from that. I always try my best to talk them through what they can do and I watch their progression through out the years and see them really enjoy what they are making. Helping  another person continue this process and their understanding of ceramics is a good feeling.
Does your work have a theme that you like to pursue?
I like to say controlled chaos.
Controlled chaos.What does that mean?
I don't know if chaos is the proper word but I like to show that I have control of a raw material that I can kind of blend and tweak. And then being able to produce organic lines. Then trying to have clay have the feeling of being soft more than a rigid, hard object.
Why clay?
I get asked that a lot. I think it is pretty interesting that a kind of raw material , a natural raw material that comes from the earth, you can sculpt that and fire that and it becomes a totally different medium. I just think it goes through so many changes, just like people in general and I find that very interesting in itself.
What do you like about your work?
I like that it is kind of colorful. It kind of makes me happy when I look at it. I hope other people like it because it's colorful. I myself am kind of a more black and white kind of person. I am not really good at color blending myself. In regard to glazing, just mashing together two different things and seeing what comes about is really exciting to me. I just never really know until it is fired.
What tool would you not want to do without as a ceramic artist?
A super, super sharp knife. If I had an exacto knife I think I could do everything.
Book
Contact
Instagram: @risaasama