Podcast: Play in new window | Download
Keaton Skyles | Episode 248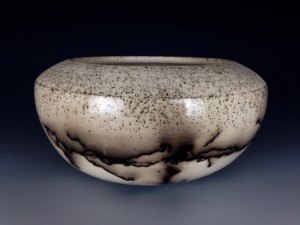 Keaton Skyles is a 29 year old ceramic artist and has been working with clay for 15 years. In 2010 Keaton earned his BA in psychology at Boise State University. In 2011 Keaton set up his own ceramic studio space. Keaton's work ranges from raku and saggar to large stoneware forms and functional porcelain.
SPONSORS
Number 1 brand in America for a reason. Skutt.com
For all your ceramic needs go to Georgies.com
As you make your work do you take into consideration the audience who is going to be buying it?
Yes and no. Some of it you have to. Like for example out at the market to survive I had to make some smaller things. People aren't out there to spend hundreds of dollars most days. You get a few of them, but I had to make smaller things. So I had to look at my work and ask what is it in the twenty dollar range that I can produce, something just simple. On the other side I don't really consider it at all. I think about what I like, what's unique. what my specific skills encompass.
What do you look for in deciding which shows to apply to?
How many years they have been doing it.The location. Participating artists. The jurying process. The expense.
How many artists they have.
How about your booth? What are some key things you include in setting up your booth so that it's attractive?
The first thing people should think about is that you have to travel with it and break it down and set it back up. You have to take that into consideration. How is this going to store, the weight, things like that. But uniformity is good, you don't want to have too much work, you don't want it to be clustered. I think it's important to have things scale up towards the back so you are not blocking pieces in the back with pieces in the front.
Do you try to capture people's email addresses so you can market to them later?
With people that purchase something nice and they are very excited about my work or want to look at my work again or wonder where I am gong to be, then definitely. I don't have an email list for people just to sign up but I should probably do that.
Do you find people are more looking for a premium purchase as apposed to a bargain purchase?
There are both of those. I am not the bargain. I don't sell seconds. It's not the type of crowd I'm looking for. For example, I have been listening to a lot of your podcasts lately and I was really stoked to find Peter Pincus on here. It was one of the first ones you did but an absolutely incredible podcast. I have stared at that guy's work for endless hours trying to figure out how he does that and it took me rewinding three times of him explaining it to you and then it just hit me. He said in his podcast when he first started selling his cups he got the advice:when you open the door to a new crowd you have to leave another one behind. So you can't please everybody, it's really about finding the right crowd for you.
If you could clone yourself this afternoon and you could pick a characteristic to leave out and a characteristic to leave in, what would you leave out and what would your leave in?
That's a tough one. I'm going to try to keep this as light as I can. It's kind of one of those things that I would change but it is a part of who I am and always will be. In high school I had some surgeries and I was given pain medication. They were over prescribing them. So I had a handful of surgeries and basically became addicted for a very long time and it really got a lot worse. A few years ago was the end of it but for almost ten years I suffered with this long-term addiction and I am so happy to be over it now. So it's a part of me, I want to live with it, make the best of it. I don't want to hide it, I want to be open about it. Because when you are open about things like that it really shows that things are behind you and you are not afraid of them anymore. But if I could do it again, I don't know if I would want that to be a part of me. There are good things about it and obviously a lot of bad things. It's made me the person that I am today. I am glad that it's behind me.
And what would you keep?
That's another tough one. Definitely my artistic ability and my athletic ability. Those are two things that I am proud to have. Definitely my family. They're great. My girlfriend, she's great too.
BOOK
The Arcanum by Janet Gleeson
Contact
Instagram: @keatonskyles