Podcast: Play in new window | Download
Tim Kowalczyk | Episode 254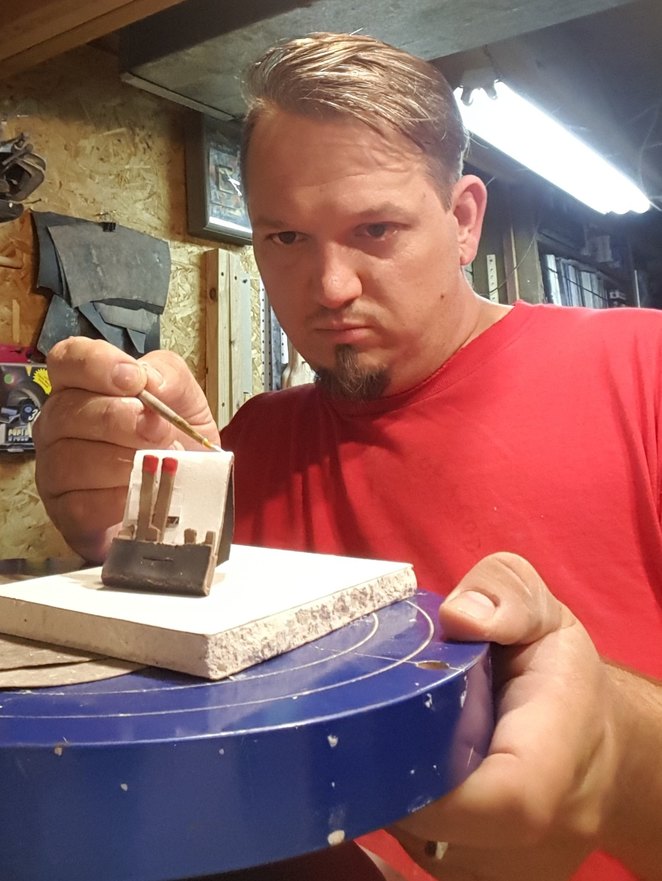 Tim Kowalczyk did his undergrad at Southern Illinois University Carbondale and majored in Art Education and Ceramics, with a minor Art History. Tim took a year off before attending Illinois State University for Tim's MFA in Ceramics. In 2011 Tim graduated and moved to a small town 30 minutes north of Normal called Minonk, which is where Tim lives and works.
SPONSORS
Number 1 brand in America for a reason. Skutt.com
For all your ceramic needs go to Georgies.com
How do you keep inspired to keep making fresh new forms?
I think forms evolve on their own. I talk to my students about this. Form is usually dictated by use. When we are talking about the cardboard, the labels that go on the outside of boxes, I am always taking pictures at the grocery store and when we walk by random cardboard dumpster box I am usually taking pictures just to have references of different images and of how different companies color their cardboard. I guess I am just looking around at garbage to make fake garbage.
As a teacher how to try to impart inspiration to those you are teaching?
I think I always try to ask them what their interests are. I felt like when I went to undergrad I went to a super functional school and I wasn't really interested in making function at the time. So I always try and tell them that your ideas may seem like they are not beneficial right now but as you grow and as you learn different techniques I think your interests play a big part in it. I have always said that if you have fun while making your work, that should be the most important part and the rest will follow through critiques and things like that as you modify and change your ideas.
If it weren't for people's response to your work would you still be making cardboard ceramic mugs?
I would still be making ceramic cardboard mugs. Yup. I have always been a creative person and I am always trying to make work. I think the longest break I have had is three months and it drove me nuts. So I am always in the studio making work even when I am not trying to keep up with the galleries and stuff for shows.
You are a teacher during the day so you already have a source for income,so what do sales mean for you? 
I feel like it is less of a burden on our household. When the art sales start to pay for itself , one big thing is running the kiln, paying for materials, it allows me to kind of expand what I am doing.
How do you keep track of your profit and loss, your cost and return?
Right now I am just really simply really laying everything out. I try to pay the electric bill out of the funds so I know how much the electric bill is each month. I try to make sure it is making at least that much. When I go to buy materials or supplies, that much is coming in at least so that way all the expenditures that I am having are coming out of that fund. It is really simple at this point.
At this point are the sales of ceramics out pacing the cost of your ceramics?
They are. I have been very, very lucky to come to a point where I am paying for the ceramics and they are making a little bit of profit.
What is the value of reading and how does it shape a person's thinking?
I read short texts like the book I recommended, but I list to a lot of audio stuff. I think that active listening or reading at least for me, I usually create images in my head as I  am going through and I don't think that is uncommon. I think it helps generate ideas and helps us look at something from a different angle and kind of gain perspective.
BOOK
How to Be an Explorer and See the World by Keri Smith
Contact
Instagram: @timsceramics