Podcast: Play in new window | Download
Sue Scobie | Episode 257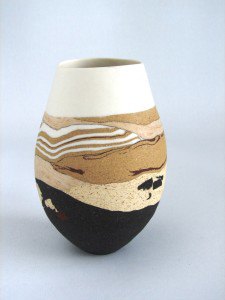 At the end of 2008 Sue Scobie switched from a career as an environmental scientist to working with clay full-time. Sue spent 2009 finishing a Diploma in Ceramics (by distance from Otago Polytechnic). Since then she has continued developing her simple vessel-based forms in colored clay, inspired by landscapes and the environment.
Number 1 brand in America for a reason. Skutt.com
For all your ceramic needs go to Georgies.com
Where do you think your creativity comes from? 
I don't know actually. I've always made things. If I wasn't working with clay, I would be making something else.
What kind of art really attracts you?
Textile things- whether it's sculpture or anything with texture. It could be stone, or bronze or glass or ceramics. But also I am drawn to abstract paintings. I get quite drawn to things that evoke the natural world.
What kind of work is not appealing to you?
Some of the contemporary ceramics work. It may be just my lack of understanding. I guess things that appear to me like they are not well crafted.
Have you had people misunderstand your work?
I am not sure about misunderstanding it, but just flat out not like it. In some ways I don't think there is much to understand. It's not as if there is anything deep and meaningful to what I make it's just my reflection of time spent in wild places.
If you could sit down and have a conversation with you twenty years from now, what do you think the future Sue would thank you for doing today and what do you think the future Sue would ask you to do a bit differently?
That is really hard. I think the future would be if I could keep going with what I am doing as opposed to quitting because sometimes it feels a bit too hard. I think the future Sue might thank me for doing it. But things to do differently, I think is one of those tricky questions because I am quite an under the radar person and I struggle with putting myself out there. It is certainly if it's something I can do better, it might all come together a bit more.
Book
Contact
Instagram: @suescobie_ceramics