Podcast: Play in new window | Download
Mallorie Terranova | Episode 262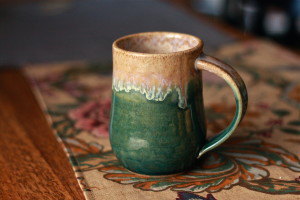 Mallorie Terranova was born in Richmond, VA and raised in Huntersville, NC. After graduating high school, she moved to Wilmington, NC to attend the University of North Carolina Wilmington. Mallorie eventually found her way into the Studio Art program, where she got her hands in clay for the first time, and fell head over heels for the ceramic craft. In December 2015 she graduated from UNC Wilmington, earning a Studio Art Degree with a concentration in Ceramics. While still in school she founded her own pottery business, Jars of Dust. She is driven by being able to create functional vessels, essentially from dust and water, that can be used every single day. Now Mallorie is living on Hatteras Island off the coast of North Carolina with her husband, PJ, and their chocolate lab, Brown Bear. Currently, she is working at a pottery studio called Kinnakeet Clay where she teaches several different classes, as well as striving to grow her own business.

SPONSORS
Number 1 brand in America for a reason. Skutt.com
For all your ceramic needs go to Georgies.com
How do you keep yourself connected with other artists now that you are out of school?
It was really hard for me right after school. I continued to live in Wilmington for about half a year after I graduated. I wasn't allowed access to the studio after that, which kind of sucked at first but now I can see it as a good thing. It forced me to buy my own equipment and figure out my own studio space. I did struggle with going in to the studio and there was no one else working. It was hard to come up with more things and it was hard to get motivated when I was just in there alone working. It made me realize that if I wanted to be an artist, I would be an artist by myself. There will be seasons when other artists come along side and help push you along but there will also be seasons where you have to get up in the morning and put yourself in the studio. Now we have moved and I am in a studio where there is usually someone else around and I find myself sometimes wanting to go in early to get time alone as that produces a whole different type of creativity.
What has been your biggest challenge for starting up your business?
My biggest challenge for starting up my own business is probably sticking with it. There are days when I'm thinking, what have I gotten myself into. I am tempted to give up and do something else where I am not the boss and making all the decisions.
What has been your biggest victory?
I think just being able to make an impression on people. The little victory of being able to put something into so many people's homes that they get to use.
Do you have a road map for your business at this point? Do you have an end in mind?
I think I have goals and dreams and desires that would be an ideal place to arrive upon. Right now I am mainly doing custom orders and requests, and those are great but it is definitely  not an ideal place to be as an artist because I'm catering to what people want instead of being able to sit down and make exactly what I want to make.
If you could design the perfect day for yourself what would it be?
Right now my perfect day involves sleeping in and not getting out of my pajamas. That's kind of a silly answer but I think in general my perfect day would be taking a drive and being on the road. My husband and I love our brand new chocolate lab puppy, Brown Bear, and just adventuring with him and being outdoors and exploring new places.
Book Recommendation
Contact
Instagram: @jars.of.dust