Podcast: Play in new window | Download
Bhairavi Naik | Episode 266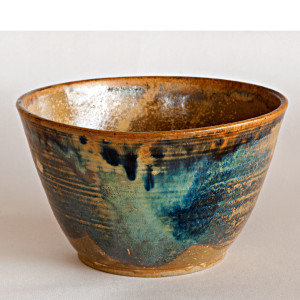 Bhairavi Naik is a biochemistry graduate turned media professional. Bhairavi worked in several advertising agencies for many years, before finally accepting that she prefers clay over client servicing. As the senior partner at Curators of Clay, Bhairavi works at the studio as a potter and curator. Bhairavi mainly creates functional ceramics that can be used everyday. Curators of Clay's vision is simple, they want their work to be loved cherished and used everyday. Curators of Clay started out as a pursuit of beauty, peace, and happiness.
SPONSORS
Number 1 brand in America for a reason. Skutt.com
For all your ceramic needs go to Georgies.com
How do you define creativity?
I don't have a specific definition for creativity, but it is something very instinctive. That instinct comes after a lot of practice and work and it becomes very natural. There might be a germ of an idea but then you have to constantly work, work and work and then it flows naturally.
People have said that if you get interrupted that it takes 15 minutes or more to get back into the flow of work. How do you handle interruptions? 
The advantage of the studio is the network connection is very poor so we do not get phone calls and since it is away from the city not many people drop in. That is the advantage, once we are there we can totally do our work.
What do you do to get into a creative flow? 
I wake up in the morning and go to work. We are surrounded by beauty and nature so I think that puts you in the mood for work.
So many people have said that work begets creativity. Do you believe that?
Yes.
How did you come up with your main ideas for your work? (the three thoughts you shared earlier in the podcast)
I love being surrounded by beauty. So at home whatever I pick out, it needs to be beautiful. Handcrafted ceramics need to be beautiful for sure. When you have something beautiful in your hand you are automatically at peace. It gives you immense  joy. When we make the pieces it gives us joy and we want to spread the joy to everyone.
What risks are you facing as a business right now?
The biggest risk we have taken is we left our well-paying jobs and come into something which nobody has done.
Is there something in your business that you have not done yet but you are excited to try?
There is a lot of things that we want to do. We want to set up a store which gives you experience in ceramics. When I say experience I mean, when you hold hand-crafted ceramics vs. store-bought ceramics it is very, very different. So we want to have a store where people can come, sit and enjoy a cup of coffee, feel the product and then buy it. That is something we would love to do.
Book
A Potter's Book by Bernard Leach
In Praise of Shadows by  Junichiro Tanizaki
Contact
Instagram: @bhairavinaik