Podcast: Play in new window | Download
Christopher Melia | Episode 289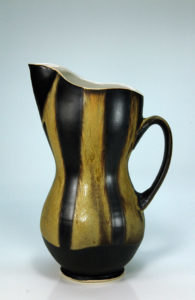 Born and raised in Humble, Texas, Christopher Melia moved to Corpus Christi in 2001 to extend his education at Texas A&M University – Corpus Christi.  Shortly after engaging in ceramic courses offered at the university, he became an apprentice to a local studio potter, William Wilhelmi.  In 2006, he received his BFA in Ceramics.  He continued to work for Wilhelmi and take additional classes until moving to Denton, Texas for graduate school at the University of North Texas.  Chris finished his MFA in 2011.  He currently lives in Whitesboro TX with his wife and two sons, teaches at Little Elm High School, and makes work in his home studio.
SPONSORS
Number 1 brand in America for a reason. Skutt.com
For all your ceramic needs go to Georgies.com
What makes a good teacher?
One that is encouraging, that gives the students all the possible options, things of that sort. I like to try to invest my time in the students and just help them to pull off their voice, what they are inspired by. I am always asking them why are they making it. I'm really just trying to push, push, push and trying to get something out of them. Once they start branching out and start getting ideas of their own, I can help them pursue that.
What makes a good student?
One that will listen. One that will listen and isn't afraid to take the risks. Too many times they get into their comfort zones and they don't want to take that risk. I like the risk takers.
What makes a good potter?
Voice. Consistency. I am all about aesthetics and good lines. That is my take on that for sure.
What makes a good pot?
I don't know. I think that depends on what you are looking for. I really appreciate form and just clean sort of lines is what I am looking for.
What makes a good life?
Be happy at what you do. Love when you can. Don't let things get you down. Don't be bitter. Just let it go. Be with your family having a good time with them and working hard.
When you are alone, what songs do you tend to hum to yourself?
I don't know if I have an answer for that. I am more of a whistler that a hummer. I don't know, just different tunes. They are kind of a compilation of a bunch of different things. I don't necessarily think of one particular thing. I have probably a terrible genre of music, I just listen to anything I can handle. So I don't gravitate towards one thing more that the other. I am not very specific about my music at all.
Book
The Potter's Dictionary by Frank and Jan Hamer
Contact
Instagram: @melia532