Podcast: Play in new window | Download
Chris Casey | Episode 325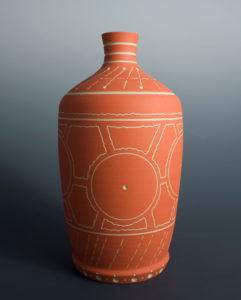 Chris Casey is an artist from Albuquerque, New Mexico. He earned a BFA from the University of New Mexico with a concentration in ceramics. Since graduating, he has worked out of his home studio and held various ceramics related jobs such as studio assistant, glaze production manager, and is currently the studio manager at a community college. His work, abstract and colorful, is rooted in his love of drawing. Employing colored underglazes and slips on porcelaneous clay bodies, he carves intricate designs into the surfaces of his pots.
SPONSORS
Number 1 brand in America for a reason. Skutt.com
For all your ceramic needs go to Georgies.com
Have you ever gotten artist block where you haven't know what to make next?
Yeah. The longer I have been doing this I get it less and less. If anything I have issue with not being able to be in the studio nearly as much as I would like to be. But what I found to get through artist's block is that you just have to show up. If you don't know what to do, you go to your studio and just work. As long as you are producing something you will get there eventually. I think artist's block is a lot of theorizing so you are kind of stuck in your own head. So if you can just get out of your own head and just make something or go and do something, go on a little trip or something. Go to a museum or go to a movie or something like that. I think you just have to get out of your own head if you are stuck and look at the amazing stuff everywhere. Most of it we have our blinders on and we don't really see that stuff. So go outside and take a walk, look around, and soak in the world a little bit.
Have you ever looked at a piece of art or pottery and it has affected you so deeply that it made you tear up?
Yes, definitely. When I was in Portland at NCECA I went to the Portland Art Museum and I walked around the corner and in the room was a Dan Flavin piece. He was a minimalist sculptor in the 60s and 70s. He was the one that did, it's like long fluorescent tubes or various colors, kind of arranged geometrically, they are really beautiful. I had no idea this piece was going to be in this museum and I walked around the corner and there was beautiful blue and yellow and this kind of pink color. I stood there for probably at least twenty minutes or half and hour. There is a point where you get overwhelmed. In school I had to write a paper about him and I loved his work and I had never seen it in person. So that was a pretty powerful experience.
How important is it for an artist to have an ego? Or is it important?
I do think it is important in the most positive way that you could say an ego. You have to dig what you are doing and you have to believe in what you are doing in order to keep going. Because, as we know, it is not always happy and sunshine. Sometimes it sucks and it's rough. So I think you have to have some fundamental drive and some belief in yourself in order to progress and push through the hard times. That's the thing about the ceramics field, we tend to be very supportive people. I think your ego can help you rise up but you are not trying to push people down while you do that.
What was the best money you ever spent as an artist?
I would probably say my pottery wheel. I bought a brand new Shimpo VL Whisper in 2011 and it was kind of on a whim. I think I just had some money and I thought, Oh I want a pottery wheel,  and I bought one. I had been in school  and I had studied for a while but I have probably put thousands of miles on that thing if it had an odometer on it. And I have made thousands of pots. So I think that is probably the best money.
When you look at your friends, do you surround yourself with artists or do you surround yourself with an eclectic approach to friends? 
Definitely eclectic. I grew up as a video gamer. So games are very key, sort of my identity is tied to video games. So I am very much interested in any type of games. I actually worked in an arcade for four years when I was in college, so most of my friends are gamers. My oldest friends are kind of nerdy, that kind of crowd. But then I have all my art school friends. Those are the people who go to galleries and openings with me. So I have a little bit of everything.
How do you price your work? 
That is kind of tough. I have tried to have a steady build up of price. It's been over  eight or ten years now that I have been really focused on this. You put something for a price and if it sells right away then at least you know it's worth that much and you just kind of keep building up.
What did you do with the money from your very first sale?
Actually I sold a painting to my uncle's friend for ten dollars when I was probably 18 or something like that, and I still have that ten dollar bill.
As a potter, what would you choose as your mascot?
Oh,that's easy. A praying mantis.
Why a praying mantis?
If you look at my pottery you will see my signature is a C and right underneath it is this swirly guy with some dashes, that is actually an abstracted praying mantis. I was kind of obsessed with them as a kid. So every pot I have made has a praying mantis on the bottom. So that would be my mascot.
Book
Contact:
Website: ChrisCaseyArt.com
Instagram: @chriscaseyart