Podcast: Play in new window | Download
Frank James Fisher | Episode 333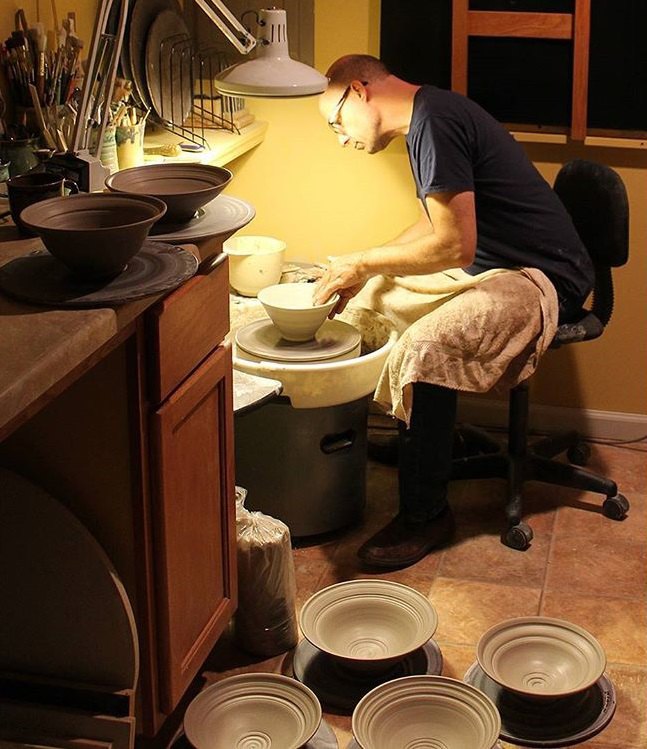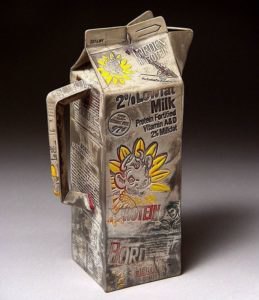 Frank James Fisher is an American ceramic artist. Fisher lives and maintains a studio in Milford, Michigan, USA.  Frank's ceramic work is influenced by the graphic design principles developed during his extensive advertising career. Frank has worked in the Detroit advertising industry since entering the commercial art field in 1985. This brought a diverse blend of creative influences into his output and resulted in a unique blend of words and images on his artwork. Adept as a professional designer, writer and illustrator, Frank is known and recognized for his graphic design narratives in the ceramic medium. Frank's explorations of western raku exaggerate the graphic qualities of his work. Innovative clay construction methods push the limits of complex, ultra-thin porcelain sculptures fired in a raku environment. Fisher has evolved a variety of glaze application techniques, giving his ceramic surfaces a look of controlled chaos. Frank has authored articles about his methods and philosophy in
Ceramic Art and Perception, Ceramics Technical, Ceramic Monthly, Pottery Making Illustrated, Clay Times
and
Ceramics Ireland
. His work is featured in books, magazines, exhibitions and on household shelves around the world.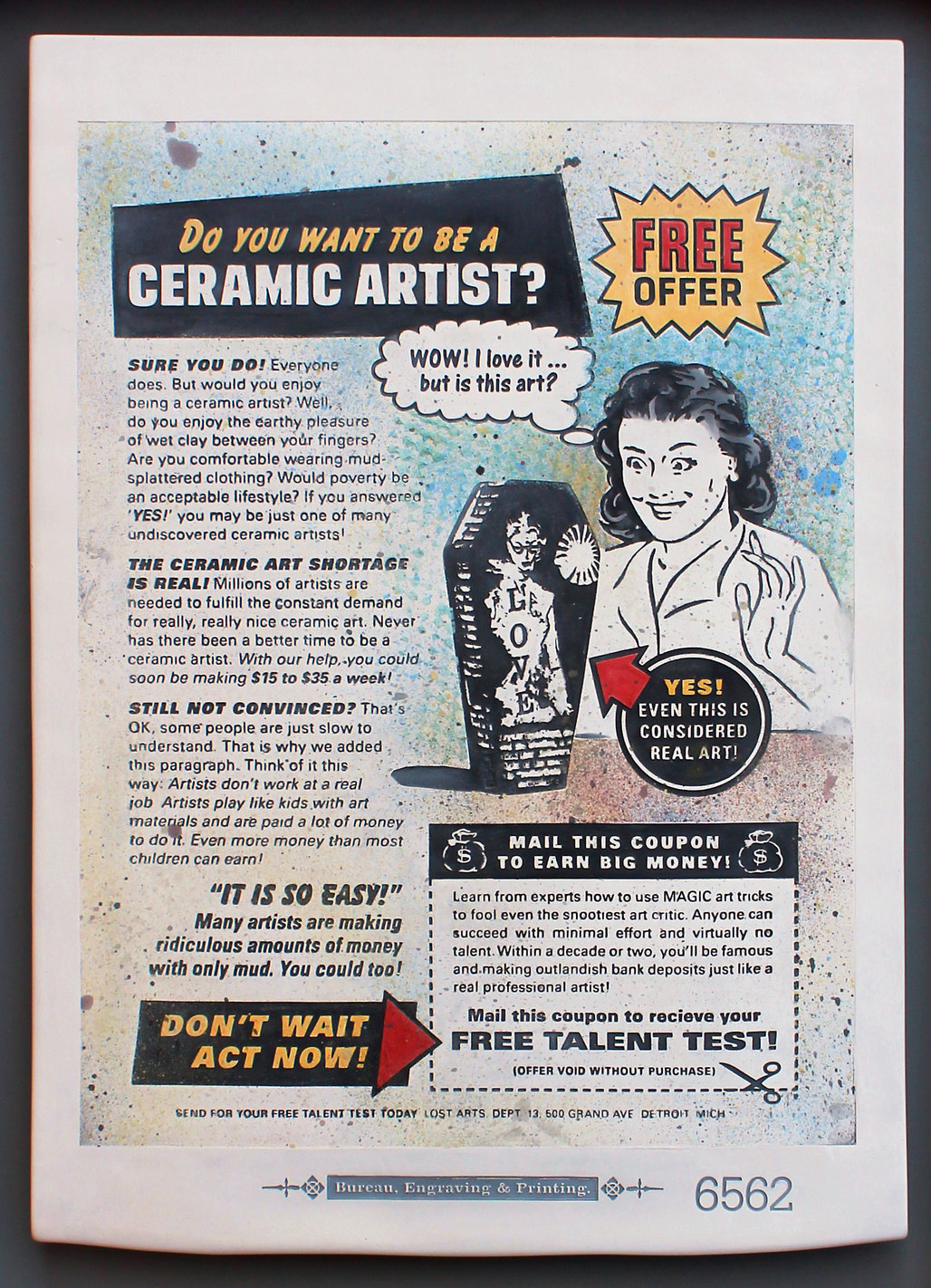 SPONSORS
Number 1 brand in America for a reason. Skutt.com
For all your ceramic needs go to Georgies.com
Besides NCECA, have you ever had any art pilgrimages?
Yeah, I like museums, going to the Met. My mom and I went out to the Chicago Institute of Arts. We did a one day trip there. That was kind of a nice side trip. I visit my brother once a year. He is in New York, he's a painter and basically that is an art trip. We hit all the big galleries. He is pretty well-connected in the art world there so sometimes we get a studio tour in there too. The whole artist's life thing is really important and there is something magical about what happens in an art studio that you don't appreciate when you are just looking at the final object. I love visiting art studios.
Do you feel that an artist is different than the rest of the civilians out there?
I think we are different but I think each of them are also different. Just in the same was an account is different. So I think we are made a little different but I think they all are. Everyone is different. If you are in construction you have a different obligation to culture or if you are an artist you have a different obligation, if you are religious… I think everyone has an equal importance to the culture.
Do you remember any specific pottery or art that made you cry?
Rothko. Mark Rothko. In fact if you poke around on my site, my first show, they are all gigantic color scapes. He was the guy. And because of color, I was afraid of color, I just said, I gotta get over that. Salvador Dali was huge with me. Warhol is huge.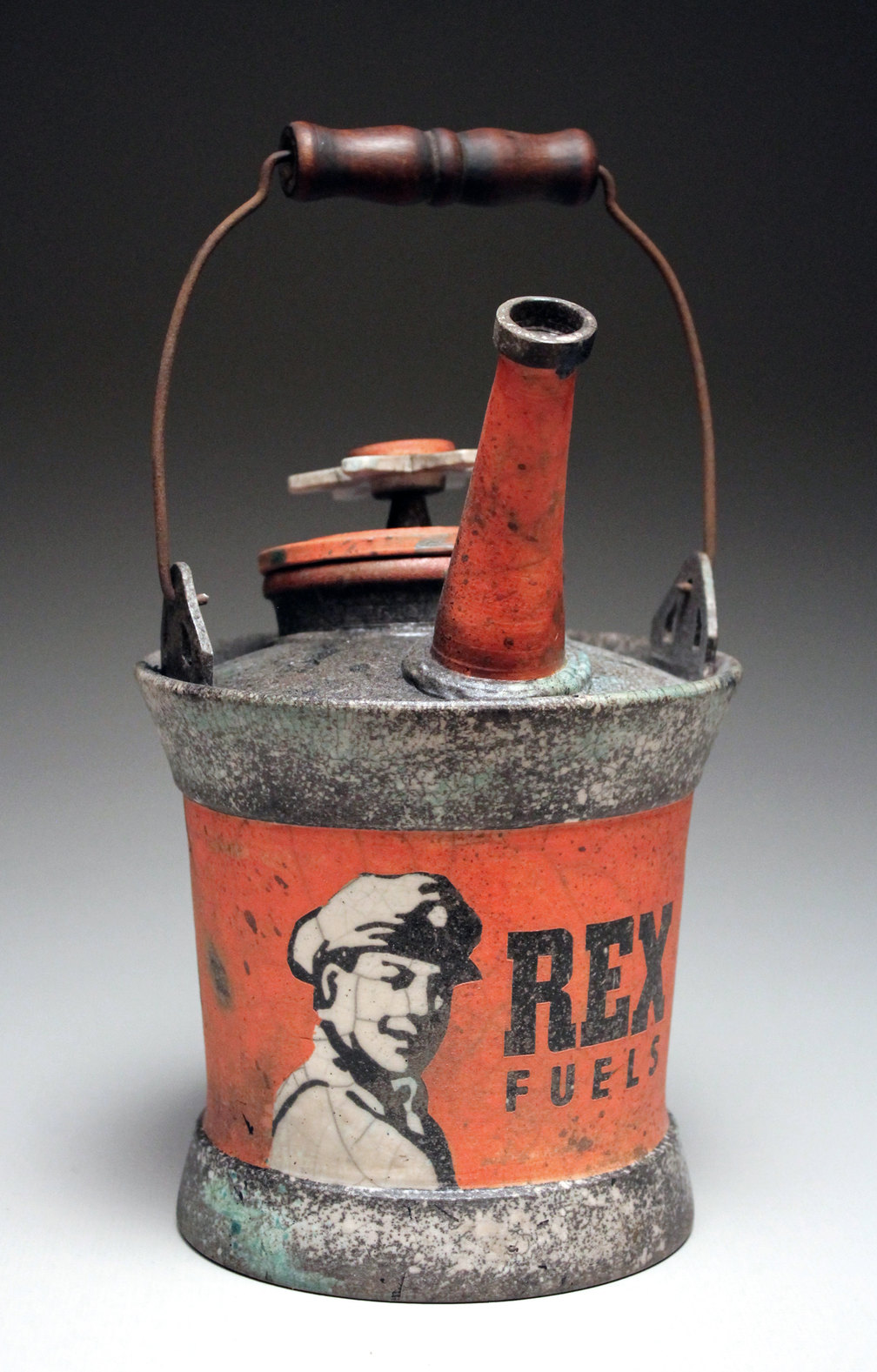 And they made you cry?
The cry part, Rothko. You just project so much in there. It's been awhile since I have, but I remember being young and being mesmerized by it. So simple, but so complex.
Do you see any unethical practices in either the ceramic or the art community?
I don't know of any off-hand in ceramics. I worked in advertising as an illustrator. I had a painting career there for awhile. I can't say that those other areas are as polite and ethical as ceramics. I think ceramics is a very close-knit but open group that appreciates each other a lot. It is interesting because ceramics is becoming more and more popular and when things get more popular more and more money gets spread around. So I hope that it can keep its pure form as it continues to grow.
Do you think having a big ego is helpful or hurtful for a ceramacist?
I think it is hurtful for any artist. I think you are just setting yourself up to fail. The works that I have collected, I have collected as much for the person as the object. I look at it as a memento of that person and what I know about them and how they live their life.
How long on average does it take for you to make a piece?
Probably about four or five months. Like if I sit down to do one of those tea-cans, calendar-wise , if I had in my mind what I was going to do, I could probably get it done in six weeks, with the drying time, the glazing, and the firing.
So how do you go about pricing your work? I am asking because of the length of time it takes to make your different pieces.
It depends on the situation. I had a show in Ann Arbor here and I had probably forty-five or fifty pieces in it. It was a one-man show. I priced everything low because I wanted to get out there. I wanted to sell it, I wanted it to go. I think the show sold-out except for maybe three or four pieces. Low for me is pieces going for fifty to a hundred dollars per item. If it's a piece that's really special…you know, making ceramics is kind of like a musician writing a song. You put together this album and you write all these songs and you think they are all hits, and then the world takes a listen and they decide one of them is good. Some pieces warrant a higher price.
How did being published in magazines change your process of thinking about ceramics?
I liked being a teacher, but I'm not a great teacher. I am a good teacher. And when I got published I realized  I could teach, I am just doing it in a magazine. So I think I can make my presentation absolutely perfect. Once I got published I started to look at all the stuff that I do, and a lot of this stuff was things that I was teaching in workshops and classes. So I just broke them down and said, that looks like it has enough merit and would make a decent article.  Let's write that up and send it in.  I don't know if it necessarily changed how I do it, I just keep my eyes open for something that has a lot of merit.
Book
Contact:
Instagram: @frankjamesfisher