Podcast: Play in new window | Download
Parker Hunt | Episode 342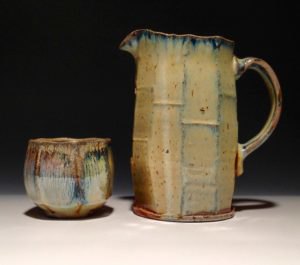 Gadsden, Alabama is Parker Hunt's home town. At age 11 Parker and his family moved to Havelock, North Carolina when his step-dad received orders to Cherry Point. At the time that was a pretty drastic change for Parker. Until Parker's mom remarried, his grandfather had the most impact in Parker's life. So leaving behind the Sunday evenings fishing off the peer and then to "The Chief" for banana splits with his grandfather was hard.
SPONSORS
Number 1 brand in America for a reason. Skutt.com
For all your ceramic needs go to Georgies.com
How did you decide as a ceramic artist what you were going to pursue to be able to make money as an expression of your art?
I would say that was a forced decision when I decided to turn down grad school. When I realized that Emily and I were going to get married I started thinking about an "ends meet". An ends meet for me in the ceramic career meant to make pots.
How do you find your target audience for buying your work?
I don't know because I don't think I have put myself out there enough to really know what audience as a whole, in general, really love my work enough to be returning customers. I do have a large group of people at church who purchase my work pretty regularly.
There is something about having a body of work for people to be able to see and understand. How do you get that body of work out of the studio and in front of a potential audience? What are you doing now to do that?
I am really just hashing out ideas in the studio to see what works together. I think my identity in ceramics right now as it continues to mold me,  is faceting.  So I don't really know what certain forms or shapes look like until I facet them. So I go through a lot of trial and error. More error in figuring it out and making sure it works together then just kind of putting a bunch of stuff out there for people to see and it look really miscellaneous. I am still building on my inventory.
How do you go about building your brand and recognition? What are you doing right now to make the relationship with customers strong?
Spending time with the customers. You know, not just trying to pitch a sale. I am really showing them that I really love what I do. I think Bede Clark said, " Never set out to do mediocre work." He told me that at the Woodfire Symposium last year and it really stuck with me, not just to make pots to sell but to make a product that you love so that other people will know that you love it, so they will buy it.
How do you go about pricing your work?
That is probably the number one thing I am awful at. I see a lot of pots being sold for a lot of money. I know some people who woodfire their pots and price them very low and others woodfire their work and it's out the roof, so I am awful at that. I don't know how to price my work.
What factors do you add in when pricing your work?
That's a hard questions because this year my materials have been for free. I have been trying to come up with my material list I will need to start my studio and how much my electric kiln will cost to fire and how much I will sell my work for to make a profit.
My last question. You are a newlywed. Describe your perfect date night.
OK. Well, in Gadsden, Alabama my wife and I, our perfect date to us was at Waffle House. We would go to Waffle House and we would just sit and talk over a cup of coffee and I would always order on cinnamon raisin bread, an egg sandwich. She would always order chocolate pancakes or chocolate waffles and some bacon. She denies that she used to order hash browns, but she used to order hash browns.
Contact:
parkermhunt.wixsite.com/vesselmaker
Instagram: @parkermhunt