Podcast: Play in new window | Download
Deidra Krois | Episode 371
A mother, wife, artist, and wanderer, Deidra Krois is making and loving life in the San Juan Mountains of southwest Colorado. Mostly a self taught potter, she currently creates in her strawbale home studio at 8800′. Her artistic voice grew out of the mantra: Make Art. Live Simply. Be Happy. Dream Big. She makes functional and decorative ceramics that display hand stamped and decal words, quotes, poetry and images meant to create connections and inspire happiness. Her work is influenced by a love of words and her mountain lifestyle. She launched her ceramics business, Wishing Star Pottery in 2013 with a local farmer's market booth. In 2017 she opened the Mountain Girl Gallery in historic downtown Ridgway, Colorado where she shows her work with 3 other talented women. She strives to inspire the world one pot at a time.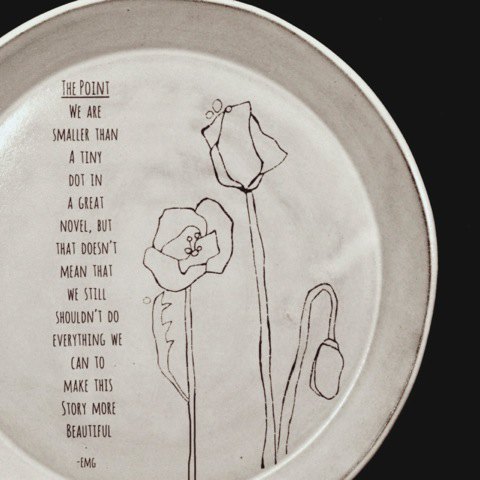 SPONSORS
Number 1 brand in America for a reason. Skutt.com
For all your ceramic needs go to Georgies.com
What is the most critical part of a successful collaboration?
Well, I think everyone needs to get along. You need to be friends to make it work. And it's nice when you have different strengths and everyone can bring a little piece to the business or to the show or whatever you are putting on.
In a collaboration there will be sometimes differences of opinions. How does resolution of conflict come about when you are working with a group of people that have the same goal in mind?
I think when expectations are set out at the beginning so you know what you are getting into, that really mitigates a lot of conflict that might arise. I don't know, I think just being mellow and all having the same vision can just prevent a big conflict from coming up in the first place.
Speaking of vision. How do you develop a vision for a group of people to keep everyone going on the same track?
Well for the gallery we really just wanted a space to show our art and sell our work. That is the goal and everyone is generally on board because that is what everyone wants to do.
How do you develop a business plan for such a low commitment business? 
I don't think there really is one. It is more really a leap of faith. As long as we are having fun we are going to do it. And as long as we are making money. Of course no one wants to lose money. It really has just been a great experience and we just want it to be a fun side project and as long as that is happening we will keep going.
How important is it for having a plan for inventory for a business like this?
It's not that important for our business because it really is very eclectic and we mix our work together throughout the gallery so it's not like you just have a set of shelves you have to fill or keep full. It's more fitting things in and making things look nice together. There is no pressure of having a certain amount of inventory for the gallery but it definitely has been a challenge for me to keep my online shop stocked and make sure I do a few summer shows and make sure my booth is full and make sure the gallery is full. On a personal level I try to make sure I have enough everywhere.
You did a 180 mile backpacking trip recently. What is you favorite memory from that trip?

Oh my gosh, there are so many amazing memories but this summer would definitely be the peaks we climbed. We climbed the two highest peaks in Colorado. It is always such a good feeling when you get to the top of a mountain and I love that my daughter and I get to share that and that we have those memories.
Book
The Omnivore's Dilemma by Michael Pollan
Contact:
Website: WishingStarPottery.com
Instagram: @wishingstarpottery