Podcast: Play in new window | Download
Cindy Bracker | Episode 390
Cindy Bracker is the Communications Director for NCECA and the former Director at Large for NCECA. Cindy is also helping to run the family business of Brackers Good Earth Clays which is a local ceramic supply house in Lawrence Kansas. And, as the picture above indicates, Cindy is also a competitive cyclist. For today's episode of The Potters Cast Cindy is talking through great tips on how to attend NCECA.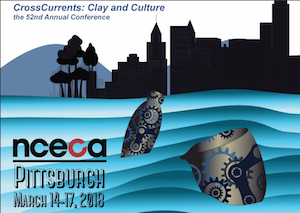 SPONSORS
Number 1 brand in America for a reason. Skutt.com
For all your ceramic needs go to Georgies.com
Why go to NCECA?
Because you will be a better person for going. Because it is a life-changing experience. Because it's better than a fork in the eye. That's another quote from my husband.
How about the value of being a volunteer for NCECA? 
That is a great question. It is a totally different conference experience. You get a conference pass for I think, thirteen hours of work. That can be coming early and stuffing the bags or it can be working as a door person basically where you stand and you check badges. There are a ton of different volunteer opportunities. It gives you an inside view into the organization and lets you see a different side of the conference. But you have to go into it eyes open knowing that you are going to be working for 13 hours in exchange for the conference pass. Get your application in early to get your pick of what you want to do. You will have a great time. All of the things I do for NCECA are volunteer work and I love it.
What is the deadline for getting your application in for becoming a volunteer?
I am pretty sure at this point it has already passed. It would be on NCECA.net  Dori is the person who handles NCECA applications. So you could always email her. My email is communications@NCECA.net and I will answer your email and direct you to the right person.
Is there a time limit for how long someone can be a volunteer?
NO. You can volunteer every year for NCECA.
What is the top tip for attending NCECA?
Really just one, you are going to limit me to just one?
Yes, I want to best tip right here. 
O.K. this actually comes from Ben Carter. A few years back I emailed a bunch of people and asked what is your advice to first timers. And Ben Carter wrote back and he said: Don't be afraid to approach your clay heroes. And that to me was really meaningful.  It was really meaningful to me because I was afraid to approach Ben Carter when I saw him at a conference and then I remembered that he had said this. So I felt morally obligated, so I walked up to him and introduced myself. It was totally a nail-biting moment but I found out he is just as nice in person and charming and wonderful. I decided he not only hung the moon but the sun as well.
What is the value of staying at NCECA through Saturday morning and what is the value of staying through Saturday night?
Saturday morning is the emerging artists presentation which I have to admit before being on the board I didn't ever stay for it. I was one of those people that jetted out of there Saturday morning. But it is so amazing to watch these six young artists talk about their work and their mentors and how they got where they are. I can't tell you how many of these people were previous emerging artists and they are the top names in ceramics right now. I think it's a great way to cap off your conference. And the closing speaker. The key-note speaker is usually someone from outside our industry who comes in and speaks to us from the outside looking in to motivate us,but the closing speaker is usually one of our own who has seen a lot of things and been around NCECA a lot of years. It's a time where you can sit back and reflect and internalize what you have learned this week and the experiences that you have had and just kind of be and be in that moment. Then after that lecture I always try to encourage people to come to the open board meeting and give us feed back. And I will just tell you, there is food there.
What is your favorite NCECA story?
My first NCECA was 1995 in Minneapolis which is kind of interesting because I will be closing my board position oat the 2019 conference in Minneapolis. That first conference Don Writes was one of the simultaneous demonstrators there and it was not long ago after my dad died, it was my  mom and my sister and myself. Don had come to KU and done a workshop for dad with his students and so mom knew him and she looked and me and said, You need to go watch Don Wrights throw. Go ahead, leave the booth. So I walked into this room and at that time it was three sumultnaeous demonstrators with three little stages almost like a rock concert. Which is appropriate because I think Don Wrights is a rock star in our industry. He had fifty or sixty pounds of clay on his wheel and he had thrown a cylinder and he literally picked up the front of the wheel and he put it on his thighs so we could all see what he was doing inside the cylinder. He was pulling up the walls of the pot and I think watching someone throw is the most magical thing on the planet. I love watching people throw. Having that experience  in person is probably one of the most memorable things at NCECA.
Book
Wheel Thrown Ceramics by Don Davis
Contact: