Podcast: Play in new window | Download
Laura B. Cooper | Episode 50
Laura B. Cooper is a potter working around Athens, Georgia. In addition to her own work as Laura B. Cooper ceramics, she also operates a pottery studio and gallery in Bishop, Georgia with six other artists. Their group is called Long Road Studios, and is comprised of seven independent ceramic artists working together to accomplish more as a group than they ever could individually.
SPONSORS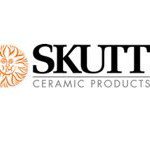 Number 1 brand in America for a reason. Skutt.com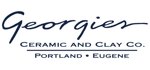 For all your ceramic needs go to Georgies.com
HOW DO YOU  KEEP YOURSELF INSPIRED AS A POTTER?
I kind of collect experiences from everywhere. I have a collection of my favorite sculptors, my favorite potters, and sometimes I just browse Pinterest and look at other people's work and find inspiration there. Some times it comes in the form of a song, or a book, or just a mood that I'm in. And sometimes it comes unconsciously where I'm working intuitively and things just happen that way.
TELL ME ABOUT WHO YOUR FAVORITE POTTERS ARE?
Ann Van Hoey was one of my favorites. Some of my favorite teachers were my
inspiration like Ted Saupe and Maria Dondero.
WHAT DO YOU LIKE MOST ABOUT YOUR STUDIO?
I like that it is open and it is not clean. It's organized but there is a freedom to be completely filthy with clay if you want to. I have neighbors and people coming in to visit me all the time. I always have someone to talk to or I can go there late at night and be completely alone if I want to as well.
IF SOMEONE WANTED TO BECOME A POTTER, WHAT ADVICE WOULD YOU GIVE THAT PERSON?
Embrace failure and expect it. That is the only way to learn really. If you want to get involved with clay you need to expect failure and you need to love it.
Alberto Giacometti 


WHAT DOES YOUR DAY LOOK LIKE AS A CERAMIC ARTIST?
I have 2 kids and I have a part time job as well. After I take care of my children and do my part time job and everyone is in bed I typically stay up until 4 in the morning working. It's OK to me, I love it. There is not a lot of book keeping going on. I just want to warn you about that. That is the least favorite part of the job. I can do that schedule for about 2 or 3 days and then
I have to take 2 or 3 days off.
CONTACT