Podcast: Play in new window | Download
Holly McKeen | Episode 51
Holly McKeen is known for her Crystalline glazed porcelain and functional ware. Selling from her own Gallery in Chilliwack BC Canada since 2005, Holly approached her Pottery business with an entrepreneurial attitude as well as an eye for the art. She's shown that taking the leap to Pottery as a full time job can pay off.
SPONSORS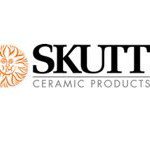 Number 1 brand in America for a reason. Skutt.com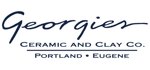 For all your ceramic needs go to Georgies.com
HOW DO YOU  KEEP YOURSELF INSPIRED AS AN ARTIST?
If  I feel  like I have lost my mojo after some time away, I realized if  I just sat down and make functional work, pretty little creamers and nice little mugs, and make a whole lot of them, then I start getting it again. I try not to look at a lot of magazines of new pots, but I like to go back to the ancient pots because they all flow from there. My
pots over time I have come to think that they are inspired by the human form. So it is all about the curve and searching for the perfect curves. So I am always looking at form and how that works. Like a pregnant belly, is there anything more beautiful and luscious than a pregnant belly because it has that life from within and that's what I want my pots to have.
WHO IS YOUR FAVORITE POTTER?
Ginny Conrow is one and Lucie Rie.
WHAT IS YOUR FAVORITE TOOL?
My pug mill. Also my husband made a tool, it is a wire frame and can just take the pug and slice it and I get  eight 400 gram pieces.
The most important tool is my Skutt Kiln. 1227 PK Model.
WHAT DO YOU LIKE MOST ABOUT YOUR STUDIO?
Oh, I've got a great designed studio, which my wonderful husband, Ken actually built from scratch for me.  He was incredibly supportive, and spent two years in building our addition, and my studio.  He's very talented with wood, and built it all – the counters, my spray booth, the ware racks, and the beautiful showroom shelving units and plinths too! I cannot imagine how I would've ended up with this fine studio setup without all of Ken's support & hard work! I've got a wet end on one end. It is L shaped, I love an L shaped studio. So one end is my wet end, it's got my wheel, slab roller, extruder,wet clay etc and the opposite end is my dry end or glaze end. I love that my sink is right by my spray booth. On the other side of my spray booth are all my glaze materials. The kiln is in the middle, in the elbow of the L.
SO IF SOMEONE WANTED TO BECOME A POTTER, WHAT ADVICE WOULD YOU GIVE THAT PERSON?
They have got to love it. They've got to love it and have that passion in their work. Then take a business mind to it. Sit down and do the numbers. Be aware of what it costs and be sure it fits your lifestyle.
BOOKS 
Macro-Crystalline Glazes by Peter Ilsley 
WHAT DOES YOUR DAY LOOK LIKE AS A CERAMIC ARTIST?
When I get into the studio my day is really rigged around two things, my mood and the clay. So if I am all of a sudden in a mug mood, then I am just going to put everything else aside and just do mugs. But once I do that I know the next day is completely run by the clay because I don't believe in covering things in plastic etc, I think that when the clay is telling you it needs the handles on, it needs the handles on. Like now, today. Sometimes I try to organize my week and Monday, Tuesday become my glaze days and Thursday, Friday and Saturday my showroom is open from 11-5pm. So on those days I have to be available for the clients
during those hours. I like to be working at something that the clients can see so that will come in to play there.
The marketing stuff I tend to do early in the morning on the computer. The computer can suck you dry, you can be on the computer and not get off when you should be in the studio. I organize a lot of events and I do the graphics for a lot of them and that takes time. So a lot of the time while everyone else is in bed I will be on the computer working away on that kind of stuff.
CONTACT