Podcast: Play in new window | Download
Sarah Blackwell | Episode 54
Sarah Blackwell is an artist living and working in Brooklyn, NY.  She holds a degree in drawing and printmaking from Hampshire College and is proud to be a founding member of the artistic amoeba, The Royal Frog Ballet.  Sarah started working with clay in 2011, first as a student at The Greenwich House Pottery and then as a studio assistant at Clay Space 1205 in Greenpoint, Brooklyn.  She currently works out of her studio in Clay Space and sells work through her website.
SPONSORS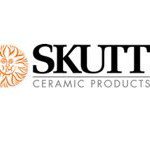 Number 1 brand in America for a reason. Skutt.com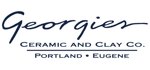 For all your ceramic needs go to Georgies.com
HOW DO YOU  KEEP YOURSELF INSPIRED AS AN ARTIST?
At the moment I feel like the ideas are just flowing. I am part of a communal studio so there are about 30 to 35 other people working in the studio. I am so lucky to be constantly surrounded by other makers. I also live in a really vibrant city. There are people making things everywhere. At any given moment there are way too many galleries and shows that I want to see. So there is all this human activity around me. So I am always inspired by the people around me. I am constantly admiring and adoring and stealing ideas from them
and sharing ideas from them. So a lot of human inspiration.
WHAT IS YOUR FAVORITE FORM TO CREATE?
At the moment, cylinders. I've been playing around a lot with coils, and knotting coils. This is something that is totally new and really sculptural.
WHAT IS A MISTAKE YOU MADE IN BUILDING YOUR BUSINESS?
Any time I have over thought something and stopped myself in my tracks. I am
really trying to get over that and stopping myself from being the critic before I make something.
WHAT DO YOU LIKE MOST ABOUT YOUR STUDIO?
The light and the view. There are window that we have and we have view of the Manhattan skyline and it is a treat to see the sunset.
IF SOMEONE ASKED YOU HOW TO MAKE MONEY OFF OF THEIR POTTERY, WHAT WOULD ADVICE WOULD YOU GIVE HER?
Put it out there. If you want to make money off it, you have to let people know that it is available to buy. And practice. Keep doing it every day.
BOOKS 
The Artists Way by Julia Cameron
WHAT DOES YOUR DAY LOOK LIKE AS A CERAMIC ARTIST?
For the most part, it's making in the studio right now. I usually try to do some writing in the morning to just get my ideas flowing. Then I keep pushing projects along in the studio. As potters we know that you always have something exciting going on- something drying, something ready to glaze, something ready to throw, something ready to trim… so pushing through that. When I do sit down to think about marketing or web stuff, I often do that at home and out of the studio.
CONTACT
www.sarahblackwellceramics.com
Instagram: SarahBlackwellCeramics