Podcast: Play in new window | Download
Sue Tirrell | Episode 61
Sue Tirrell is a ceramic artist living and working in Paradise Valley, Montana.  She holds a BFA from Alfred University and spent many years teaching ceramics in school, museum and community settings before becoming a full-time studio artist in 2008.
SPONSORS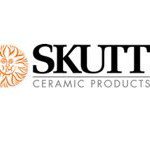 Number 1 brand in America for a reason. Skutt.com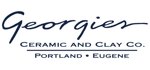 For all your ceramic needs go to Georgies.com
HOW DO YOU KEEP YOURSELF INSPIRED?
I like to get out of the studio , that is usually where I find new inspiration. I also work through a lot of issues I am currently having in the studio. When I'm working in the studio I am working through something, but I don't always see the problems or see where I need to go next. So if I can get out for a run or a ride it usually helps me to clear my head.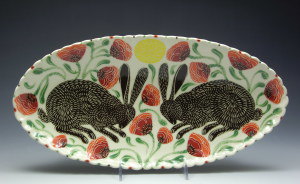 AS A BUSINESS POTTER, WHAT IS ONE OF YOUR BIGGEST STRUGGLES?
Keeping track of the income and the out go. I'm learning quickbooks right now and that is a real struggle. Keeping an online presence is always hard. Sitting down at the computer is that last thing I like or want to do. I think I would rather package up pots than do a website.
WHAT IS YOUR FAVORITE PART OF YOUR STUDIO?
Probably my favorite thing about it is that it has got Southern exposure and I painted it white. It is in a basement and I have a really nice large space down there.
WHAT ADVICE WOULD YOU GIVE TO SOMEONE WHO WANTED TO BECOME A POTTER LIKE YOU?
If they really want to work as a production potter or a production artist, find someone whose work you really like and talk to them and make contact with them. I worked for a potter when I was in college during the summer here in Montana and it was really great. I really learned how to run a studio and I watched how they did business and how their work life and family life co-mingled. I learned about what works and doesn't work and studio economy. I think that a lot of potters would be willing to have this kind of
relationship with a younger person, whether it is a traditional apprenticeship or  a short-term internship or something. I think it is a really great way to learn.
Rudy Autio


CONTACT