Podcast: Play in new window | Download
Chris Taylor | Episode 62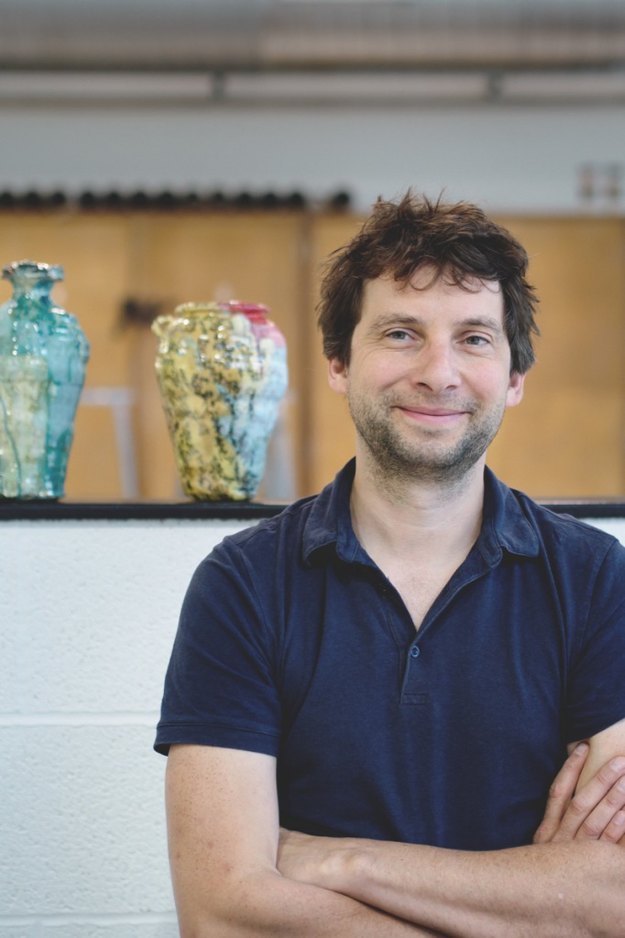 Chris Taylor works as a ceramicist in Devon, the South West of England. His current work, the ornamental vase series, consists of thrown vases decorated using a variety of techniques that are reminiscent of historical vessels.
He currently lectures at Plymouth College of Art.

SPONSORS
Number 1 brand in America for a reason. Skutt.com
For all your ceramic needs go to Georgies.com
HOW DO YOU KEEP YOURSELF INSPIRED AS AN ARTIST?
Changing things. I make things I like and I might make things along a theme, so if there is a certain color combination I like I might make 4 or 5 pieces in a similar vein then I will deliberately put it to bed. That keeps me engaged in a way that makes it exciting again. Creating something new get me excited.
WHAT IS ONE OF YOUR BIGGER BUSINESS STRUGGLES AS A CERAMIC ARTIST?
Time. When I'm making, I'm not marketing and when I'm marketing, I'm not making. I find it hard to find the time to do the things I need to do. I've come really close to taking people on to help me with various things, but it has not quite worked out.
WHAT IS ONE OF YOUR FAVORITE THINGS ABOUT YOUR STUDIO?
At the moment, I haven't got one, which is a real pain. I moved out of a place I was working in
for a long time. I really like studios as a space, I see them as a tool in a way, you need to know the space, how damp it is, how dry it is. I really miss my studio at the moment. I am working a little bit out of my shed and I use the college facilities a bit but it's not the same. I felt really at home in my studio, it was a part of me in a way.
WHAT ADVICE WOULD YOU GIVE TO SOMEONE WHO WANTED TO BECOME A CERAMIC ARTIST LIKE YOU?
I guess what I have done is I've gone off and learned a lot about what I do before I kinda got stuck in. Maybe some people would call that timid in the sense of they would jump in and worry about it late, but I feel that those skills that I have learned have really come good for me. I really value them, that knowledge. All the people I worked for and watching them, that was a really valuable time.
The Nature and Art of Workmanship

Thinking Through Craft 

CONTACT
 ChrisTaylorCeramics