Podcast: Play in new window | Download
Kajsa Leijström | Episode 65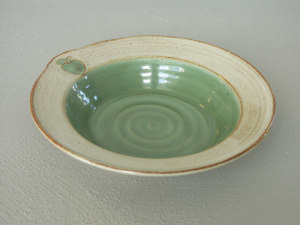 Kajsa Leijström lives in the most southern part of Sweden, which is a popular tourist destination. Kajsa has been running her own pottery studio since 1999 and most of her production is wheel-thrown functional ceramics. About three years ago, Kajsa made a major change in her work and started to make high fired stoneware.
SPONSORS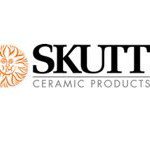 Number 1 brand in America for a reason. Skutt.com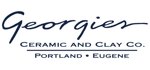 For all your ceramic needs go to Georgies.com
WHAT KEEP YOU INSPIRED AS A POTTER?
I was in the garden thinking about this. Everything around you has shape and colors and textures and all those impressions go inside your subconscious and the minute we decompose in this inner compost we stick things together in new combinations. That is how it works for me. So anything can be inspirational.
WHAT DO YOU LOVE MOST ABOUT YOUR STUDIO?
I have the type of studio that is one big room and it is divided by a low wall, so I can see the customers and talk to them and they can see me working. I like that contact and they think it is really interesting to see and they can ask me questions about the process. I find it easier to meet the customer when I have something in my hands and I am working.
WHAT IS ONE OF THE BIGGEST CHALLENGES YOU FACE AS A BUSINESS POTTER?
It is really hard to know what type of pots that will sell. This spring I made a lot of tea cups and then it was coffee cups that would sell. So I made them up afterwards because they just emptied my shelves.
WHAT KIND OF ADVICE WOULD YOU GIVE A PERSON WHO WOULD LIKE TO MAKE A LIVING AS A POTTER?
Get a lot of practice. Ask a potter to come and ask for assistance for awhile. You can learn production pottery in a better way than in school. Then you will get an insight of what it is like to live like a potter.
FAVORITE WEBSITE
Pinterest
WHAT DOES THE DAY OF A LIFE OF A POTTER LOOK LIKE FOR YOU?

I give my children a drive to school and run errands and I will be home again by nine. Then I have some coffee with my husband and we talk the day through. Then I go to my computer and I look at emails and different types of social media. I try to not get stuck too long there. Then I go downstairs to my studio by ten or so. Then I work until about four in the
afternoon. At four I go to pick up my family again. Most often I work six days a week. I work Saturdays also because that is a good day to be open to visitors.
CONTACT
http://www.kajsaskeramik.se/in-english.html