Podcast: Play in new window | Download
John George Larson | Episode 74
John George Larson is a painter and wood fire ceramic artist from southwest Minnesota. He
discovered clay at age fourteen as a means of expression and as an alternative way of exploring fundamental physics. He has studied at Utah State University and under contemporary ceramist Oh Hyang Jong in South Korea.  John fires an Anagama kiln and maintains his studio in Milan Minnesota. He uses Porcelain and Native clays with other indigenous materials to create his works which can be found in national and international collections.
SPONSORS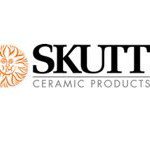 Number 1 brand in America for a reason. Skutt.com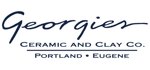 For all your ceramic needs go to Georgies.com
WHAT KEEP YOU INSPIRED?
I don't really have to try very hard. I have heard that answer from some of your other guests and I don't know of a truer statement for myself. I fall asleep thinking about new ideas. I see inspiration in everything.
TELL US ABOUT YOUR STUDIO?
My current studio is in an old high school in a small town of 250 people. This town sold the school to an arts organization for one dollar. I rent space in their old science room and I have rented this space for two and a half years now.
WHAT DO YOU LOVE MOST ABOUT YOUR STUDIO?
I have this vent, because it was a science room, that has a blower on it and it can suck all the dust out.
GIVE ME A WORD THAT DESCRIBES YOU.
Energetic.
IF I REALLY KNEW YOU, I WOULD KNOW THAT____________.
I love you.
GIVE ME A PICTURE OF A DAY IN A LIFE OF YOU AS A POTTER.
Most days I wake up when I'm ready and if I'm working on a piece or I'm working on a painting that's  my direction. So I will spend my time on that. If I'm in the middle of that process I will do routine things, making clay or moving clay, moving something from point a to
point b, doing wood prep, working on a kiln, or building a new kiln. I also have other forms of income so I have to focus on those things sometimes. I grow seed garlic with my girlfriend, so during the growing season we are somewhat busy with that. At night I really enjoy taking time to be quiet and to prepare food to share with my girlfriend or guests. I sleep when I'm tired.
BOOK
Clay Technology by Hewitt Wilson

CONTACT