Podcast: Play in new window | Download
Debra  Sloan | Episode 90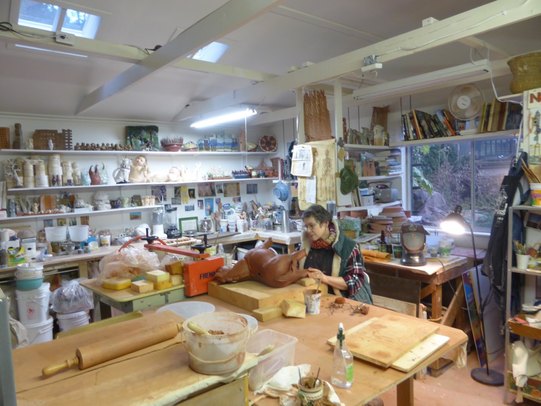 Debra Sloan did a self-directed apprenticeship  from 1973-79. Later she attended Vancouver Art School 1979-82. Debra has taught, adjudicated, and presented at many symposiums, most recently in Romania.  Now she serves on arts Boards, is represented in 6 LARK publications, she exhibits nationally, internationally, attended 3 international residencies, and most recently at the Leach Pottery, UK. Debra works mainly as a figurative artist, but started as a potter.
SPONSORS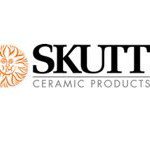 Number 1 brand in America for a reason. Skutt.com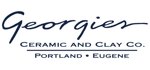 For all your ceramic needs go to Georgies.com
WHAT DAILY HABITS DO YOU EMPLOY IN YOUR LIFE TO FOSTER CREATIVITY?

I think it is observing. Just observing as you go. Every day, all the time. Where you are walking, what you are doing. You are always looking and you are always evaluating. Whatever your eye rests on, if you go on long walks, the light. Combinations of colors, vistas, events, shapes, I am always visually evaluating everything around me. My house is filled with pottery and ceramics and paintings. I go to galleries a great deal, especially when I am travelling.
IN ONE SENTENCE CAN YOU EXPLAIN "WHY ART?" FOR YOU?
It is the only way I know how to go through my life and experience it as an observer artist. It is a way of experiencing your life and I can't imagine any other way.
WHAT DISCOURAGES YOU ABOUT THE CERAMICS COMMUNITY RIGHT NOW?
Perhaps lack of technology will have an effect, but people pick up technology as they go. So they come out of art school and they don't know what the hell they are doing, they can go teach themselves. You just have to work and then you are going to learn.You just have to work really, really hard.
WHAT IS YOUR DREAM PROJECT?
I would love to go to Hungary and work with the special porcelain clay there that they use for their roofs. I would like to go there and use that clay and try and do this thing of roof figures that act like a narrative, that could actually be stretched across a roof and it would be a series of figures interacting.
ADDITIONAL RESOURCES AND LINKS MENTIONED
 Hiro Urakami -House of Ceramics~ –  Hiro Urakami's very important and formative 70s Gallery House of Ceramics  – In Japanese style, he situated the gallery right beside the Vancouver School of Art and exhibited students and established artists alike.  Hiro's management and eclectic choice of artists from all over the province changed the dynamic and the evolution of ceramics in BC.
The NorthWest Ceramics Foundation. 
 www.nwcf.ca
 the charitable and educational wing of the Potters Guild of BC. The NWCF runs an excellent and international  Speaker Series free to the public, and supports the substantia
l NWCF Award
  every 2 years
Ceramics Now 
– a relatively new international ceramics magazine being published in Romania with be publishing an article I wrote on BC Ceramics in Issue # 3 – May or June. If anyone is interested in a brief synopsis on Bc ceramics here is the
link
.
Ceramics Now also has a digital subscription.   An excellent magazine.
Contact

target="_blank">The Story of Peter and the Potter by Donald Peters, National Film Board of Canada