Podcast: Play in new window | Download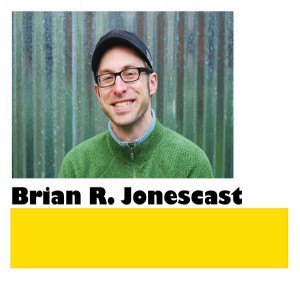 Brian R. Jones grew up in Syracuse, NY and is now an artist living and working in Portland, OR. He has been a resident artist at Watershed Center for Ceramic Arts in Newcastle, ME and The Clay Studio in Philadelphia, PA. He has earned degrees from The New York
State College of Ceramics (BFA) and Southern Methodist University (MFA). He was a presenter at the Utilitarian Clay VI: Celebrate the Object at Arrowmont School of Arts and Crafts in September 2012. In 2013, Jones was selected as an Emerging Artist by the National Council on the Education in the Ceramic Arts.
What Keeps You Inspired?
I tend to shift gears a little bit, from time to time. I don't know if inspired is the word I would use. This is a hard question because the pots have been difficult. The work that I showed in Oakland is work I haven't made in a while and it felt good to make that work and not feel like I'm hamstrung by pots, or hamstrung myself. That's a hard one.
I think one of the things that helps me work is feeling fed. If I have a chance to read The New Yorker, or a passage of a book, or The New York TImes… I like knowing things. If I feel like that urge is fulfilled, I can go into the studio and just work and be working. It's like I sweet it out a little bit, I've taken the edge off. I feel like reading something has been very beneficial. There is always some kind reading going on in the house. So that always keeps me moving forward.
I have a fettling knife that I've had for about twelve or fifteen years. I don't love having it by my side, but I need. I can't work without it. I think it is more like a co-dependent relationship. Whole days have gone by because I cannot find this knife. That's the only knife I can use. It sounds a little disgusting, but… It's the knife. And I have this stick that I really like to use too- it's a block of wood that I really like. It's just a piece of wood that I cut on a band saw eight, nine years ago and I just have it.  I use it for sanding wood, I use it for propping clay, I use it for making coils. It's just this little six inch by three inch
block of wood. It's pretty basic. Other tools kind of come and go.
Advice for the potter.

I would say be intentional. Be intentional and don't look at the typical ceramic material. Try to branch out as much as you can, as far as what you are looking at. There are a couple publications that are fine, but I wouldn't bet the farm on them.
All that stuff comes from somewhere else. I would look a lot harder and be intentional with what you are going to make. You can learn, number one. You can learn it, whatever "it" is. If you want it, it will get to you. You just have to be patient with it. And trust that it's going to happen. I think there is a certain amount of trust and confidence that you have to have. You don't always have it, but deep down you are saying, You'll figure it out, You'll figure it out. You'll figure it out.  You'll end up figuring it out.
Book
Calvin and Hobbs by Bill Watterson
Contact