Podcast: Play in new window | Download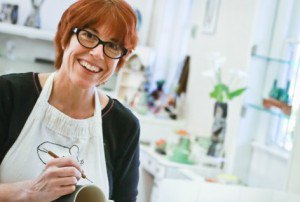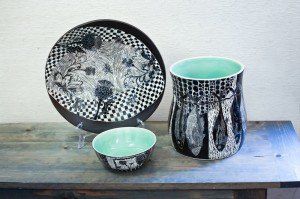 Patricia Griffin is the second of four children. She grew up riding horses, raising 4-H animals, building fence and, as teenager, working various jobs in the family's newspaper and printing business. Hard work and leadership were encouraged. Creativity was the norm: Patricia's grandmother was an artist and writer, her dad was a writer and all of Patricia's siblings grew up to be musicians, writers, printers and makers.
While running a successful public relations and design firm, Patrica needed a break from the hard paced fulfilling clients needs, she took a clay class as a distraction. Patricia just never left the clay behind. She has been working in clay for 17 years now. For the past seven, Patricia has been living and working in Cambria, CA, an artist colony on the central coast. Her studio is a converted one-room
schoolhouse on the town's main street. There, she welcomes visitors, shares her processes and talks about pots. Patricia claims it to be paradise.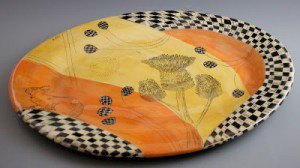 WHAT DO YOU DO TO KEEP YOURSELF INSPIRED AS A POTTER?
It's almost like I get too inspired and I have to get ways to narrow down. I can be out walking the ranch and ideas will come to me. Or looking at magazines and ideas will come on how to take something I saw in a piece of furniture and how I want to create a form that looks like that or a lot of the times I'll be driving in the car and even when I'm driving, but mostly when my husband is driving and we're just on a long trip and I'll have a sketchbook in front of me and just start working on ideas. And then what I have to do is
rest it for a day or longer and go back to my sketchbook and see what really should I do, because I tend to be the kind of person that has a whole bunch of options that are going on in my head, it's a really busy place. Then I have to choose what makes the most sense, because otherwise I will go in too many  directions at the same time. So inspiration I get all over the place. I get it in pattern. A lot of the time I will be looking at wallpaper or something in a book and get really excited and think  I should do a whole collection based on that.!  and then realize hopefully not go off half-cocked that takes me on a road that I really don't want to finish. So yeah, narrowing down. Sometimes I'll give myself creative problems to solve. There is a website called  Illustration Friday . Every week they post a word and artists are to respond to the word. And I have found that really inspirational.
I'll take that and for the week just think about how I can incorporate it that in a piece. Every week I try and do a new kind of imagery on a piece. Sometimes I don't take it all the way through. Sometimes I will just play with it and see if it develops.  Inspiration for me can come from everywhere. And usually too much at once.
WHAT ARE ONE OF YOUR FAVORITE TOOLS TO USE WHILE YOU ARE MAKING?
It really depends on the work and the day and how I'm feeling. I would say I love my wheel, I use it a lot even though I use a slab roller and extruder. I try and move around my studio and do different things so that  I don't have too much repetition. Right now one of my favorite tools is one of my biggest investment that I've made and that's a pug mill.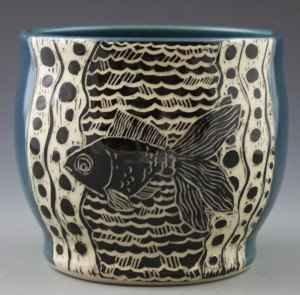 It's a Dierring peter pugger. It;s just a little guy. I was having trouble with my left hand and I'm right handed so all the imagery I'm doing with my right hand but my left hand was killing me. I reclaim clay and I went to a physical therapist who was a hand specialist and she just said it was overuse and asked me to show her what I was doing. I was wedging clay and the way I had my hands, so I went ahead and bit the bullet and got the pugger, so I'm really grateful that I have that now. The other tool I have that is really simple is a ball stylist. On both ends it has different sizes. That's in my hand all the time because that is what I start the etching with. I do a lot of my lines with it.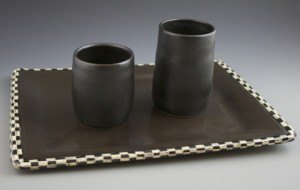 WHAT KIND OF ADVICE WOULD YOU GIVE TO SOMEONE WHO WANTED TO BE A POTTER?
Now Paul, I really don't know. I knew you were going to ask me this because I've heard you ask other potters and I think some of the people said about being intentional and I like that, I've thought about that. Is that what it is ? And I think that that's true …but it has to come after you have had a chance to explore. So that's why I get back to being really grateful about the timing of this for me because I had a successful career and a successful business and I got to learn the art of pottery while I was still making money doing something else. Yeah, and it was hectic! A
lot of people I had to squeeze it in and now I can spend the marketing time developing that side of it and still do my work. I look back and think, how could I have done this in my twenties, I don't think I could have. It's hard to give advice. If you are a young person and you want pottery to be your career or any art really, my son is an animator,  I've watched what he's had to do. You have to really want it, you have to be willing to put in a lot of hours, and to be very intentional. To be your own gatekeeper.You had said, Just start., and I think that that's true, but not wait for other people to give you the green light. When you think you are ready, don't wait for a gallery, don't wait for a teacher. You are your own gatekeeper. In every field that's the way it is now.
HOW MUCH TIME DO YOU SPEND ON CREATIVITY AND CREATING AND HOW MUCH TIME DO YOU SPEND ON SALES?
I'm at my studio working by 1:30 every day and I'm there until 6:30. And by working, I mean with the clay. Interrupted by customers and friends who come in. The exception to that is if I'm going out of town, I'm going to be doing that this week. I close the doors and I'm usually working on ideas and marketing. I'll have my computer with me. So I would say I probably spend about 2 hours everyday doing some kind of email, marketing and that kind of thing. Then 1:30-6:30 everyday doing pottery and I'm doing at least one of those things every single day of the week. So even on Saturday and Sunday I'm working on marketing or I'm in my studio. The week-ends here are times when people come in.
BOOKS AND RESOURCES MENTIONED IN THIS PODCAST
Poke the Box -Seth Godin    free online PDF


Poke the Box-Seth Godin


Pick Four 

CONTACT