Podcast: Play in new window | Download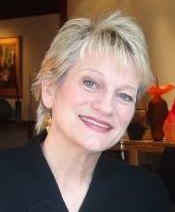 Carolyn Edlund owned a production studio for over twenty years, creating ceramic jewelry which she sold retail and also wholesale to hundreds of galleries and stores. Today she is an art business consultant, the founder of ArtsyShark.com and the Executive Director of The Arts Business Institute. She speaks at workshops throughout the country and writes extensively on the business of art.

WHAT IS THE NUMBER ONE THING A POTTER SHOULD DO TO SUCCEED AS A BUSINESS POTTER?
The number one thing, not only as a business potter but I think as any business person, the number one thing is you must be persistent. If you give up then you have chosen to fail. I know in my own business, i was not only persistent but relentless. Stick with it and get through those speed bumps and you'll be better off.  You will get some traction.
WHAT ARE SOME OF THE BIGGEST MISTAKES YOU MADE AS A CERAMICIST WHEN YOU FIRST GOT STARTED AS A BUSINESS CERAMICIST?
When I first got started I was making functional pieces and I was just kind of making whatever struck me at the time.  So I did not have a cohesive body of work. I did not have a signature style.
WHAT IS A GO TO RESOURCE THAT YOU THINK WOULD BE CRITICAL TO KEEP A BUSINESS RUNNING?
I'm old school. I use a lot of online sources, but I actually have a Daytimer. I keep everything in front of me written. You have to keep yourself scheduled. I always do a TO DO list every day.  Evernote or TO DO LIST may be a good place for that.
BOOK AND OTHER RESOURCES
Crafting as a Business Wendy Rosen
DON'TS AND DO'S
DON'TS
Don't discount your work because you fear that it's not selling.
Don't come across to customers like you are an amateur and unsure. Be the expert. You have authority in that you've created this body of work.
Don't live inside that little box. You've got to step outside, stretch yourself, take that risk. Make a commitment to talk to people and publicize your work.
Don't ever use poor photographs of your work. Honor your work by taking fabulous photos or have them done professionally.
DO'S
Do understand how to price your work.
Do come across to customers in a consultative way. Who is the expert on your work.? You are. Make suggestions of things that might work for them.
Do use beautiful photographs of your work.
CONTACT