Podcast: Play in new window | Download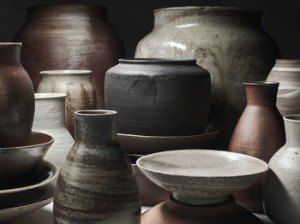 Stefan Andersson was born 1979 in a small town on the Swedish countryside. There he came in contact with clay through his uncle, a pioneer in wood fired pottery in Scandinavia. It was also with him he started his training as an

assistant for four years. After that he attended Leksands folk highschool for two years before taking a BFA at Gothenburg university. He exhibits regularly in and out of Sweden and is an experienced teacher and kiln builder. He has been awarded the prestigious Swedish art grant committees work grant for continued work.

WHAT DO YOU DO TO KEEP YOURSELF INSPIRED AS A POTTER?
I think education has given me tools to help me in different situations. Most of the
time I have too many ideas. I have to work at picking out the good ones. Also, working in the workshop. If I don't know what to do, I will do what I did last week and something will probably spring to mind. I also look at a lot of pots and I get inspired by what other people are doing.
WHAT ARE ONE OF YOUR GO TO TOOLS? A TOOL THAT YOU LOVE TO HAVE IN YOUR STUDIO?
A small wooden rib.
WHAT ADVICE WOULD YOU GIVE TO A  POTTER THAT WOULD LIKE TO GO INTO THE POTTERY BUSINESS?
I would not give advice very easily on that subject. But on the business side I would say, you can make the best pot in the world, but if no one sees it it's nothing worthwhile in marketing or selling. You have to make it visible in some way.
HOW IS YOUR TIME SPENT AS A POTTER?
I make the bulk of my income from classes. Ceramic workshops and so on. I make 2 good pots per week. I have calculated that I make about 100 good pots in a year. So most of the pots I make, I throw away. I cannot live on 100 pots but I can live on the
knowledge that I gain making these pots and that is through workshops. When I make pots and try something new and make a disaster or a mistake I can always say to myself, at least I am now a better teacher because I learned something and I can tell other people about it. It's a win win situation. Making pots is about 20 percent of my time and up to 50 percent is spent teaching workshops and classes. Another 30 percent is spent on blog posts, reading up on things, talking to galleries etc.
BOOK AND OTHER RESOURCES
CONTACT