Podcast: Play in new window | Download
Born and raised in Colorado, Adam earned his BA in Art from Fort Lewis College. For two years he immersed himself in the culturally rich art scene of the San Francisco bay area, where he began his full time studio practice. From there, he relocated to Maui, where he established a thriving studio business. He spent most of 2008 in Icheon, South Korea, studying traditional Korean pottery making techniques under 6th generation Onggi master Kim Il Mahn. In 2013 he created and debuted HIDE-N-SEEKAH at the NCECA conference in Houston, TX. After maintaining his studio in Durango, CO for 5 years, Adam recently moved to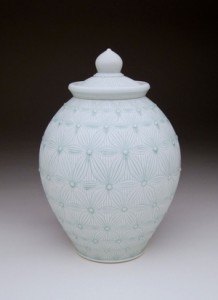 Helena, MT where he is currently a long-term artist in residence at The Archie Bray Foundation. His works are included in private collections and kitchen cabinets internationally. 

WHAT DO YOU DO TO STAY INSPIRED AS A POTTER?
On a daily basis I get on Instagram. I've been a major proponent of the clay community on Instagram. HIDE-N-SEEKAH was a project I developed to build that community. A glimpse into other people's studios and seeing how people work and their travels, it's all very inspiring to me. Plus I follow feeds that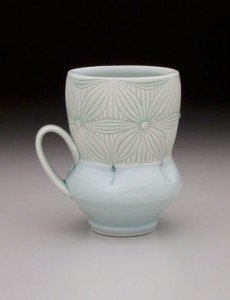 are from different parts of my life,photography, surfing, snowboarding and skateboarding as well.

WHAT ARE ONE OF THE TOOLS YOU LOVE TO USE? A TOOL THAT YOU LOVE TO HAVE IN YOUR STUDIO?
I have a lot of them, but there is one tool that I picked up during my apprenticeship in Korea, it's really the most simple thing you could think of. It's a five-sided box. So one side is open and it has three different dimensions on it. One side is probably five inches,the other dimension is maybe eight or nine and the last dimension is probably closer to twelve inches. If  you are

making a large pot in an hour, it's going to grow pretty quickly and they did not have hydraulic chairs way back in the day,  with adjustable height, so as you go you reach down and flip that box in one direction and when you've got a certain height you flip it in another direction, and flip it in
another direction as it grows taller.  There is something about the simplicity of it and also the practicality of it that I love.
WHAT ADVICE WOULD YOU GIVE TO A  POTTER THAT WOULD LIKE TO GO INTO THE BUSINESS OF POTTERY?
Make a lot of pots and pay attention to them. Read Clary illian"s  A Potters Workbook.  Also be realistic about it. I see a lot of people get out of
school where they have learned the aesthetics and wonder OK how do I make this into a paycheck?  I think it's something that's really lacking in the field so as much as one can educate themselves about it the better.
HOW IS YOUR TIME SPENT AS A POTTER?
When I went to Korea for the apprenticeship the expectation was 7 twelve hour days, which is a lot. So after a few weeks with them I had to have a conversation with them and say this is kinda rough with the family and with what I can keep up with so how about we do 6 ten hour days. 
Now I'm probably working closer to 7 fourteen hour days. I go teach workshops which actually ends up being a break for me. There are times when I get out of the studio and that freedom is great. Some jaws may drop but I spend more time on the computer than I do making pots these days. It is very telling of how one needs to communicate with galleries and co-ordinate workshops. I have to be pretty careful to make sure I have the time to make the pots I want to. When I'm taking pictures on instagram, I'm actually doing research for my work. I look at Instagram like a notebook with a window to the world.
A Potter's Workbook Clary Illian 

Retail Selling Made Easy 
CONTACT