Podcast: Play in new window | Download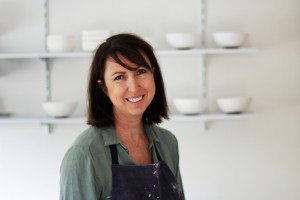 Susan Simonini is an Australian artist currently working in the medium of clay. Susan has a background in painting and printmaking, with a degree in Fine Art. She uses varied techniques to create a range of both functional and decorative ceramics. When not in her studio you can find Susan down the beach riding her skateboard!
SPONSORS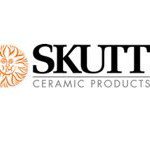 Number 1 brand in America for a reason. Skutt.com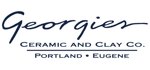 For all your ceramic needs go to Georgies.com
WHAT DO YOU DO TO KEEP YOURSELF INSPIRED? 
I look at a lot of art books. Not necessarily ceramics, all kinds of art.  You draw inspiration from so many different areas, illustration, even furniture design. I can't get enough of art books. Pinterest. I love Pinterest for ceramics. Generally inspiration for my work is going out into the landscape, going for a bush walk, some of my plates are inspired by the rocks and coastal landscape. In Australia the light is so great, to me the colors everywhere are really inspiring. Going to markets and shopping in second hand stores, I think inspiration is everywhere.
WHAT DO YOU LISTEN TO WHEN YOU ARE MAKING?
Well recently I have been listening to your podcast and I actually really like dance music, techno. And sometimes I actually like silence. I really don't mind no TV an no music, just nice and quiet. I can be a bit hyped sometimes so at times I just need that quiet time.
WHAT IS ONE OF THE TOOLS YOU LOVE TO USE IN YOUR STUDIO?
Probably just a little metal rib. Obviously my fingers are my most important tool, but apart from that when I build up the coils I like smoothing off the bumps with a metal rib but I think my fingers are definitely my most important tool seeing as I'm hand building.
WHAT ADVICE WOULD YOU GIVE TO A  SOMEONE THAT WOULD LIKE TO BECOME A POTTER?
I'm not sure I'm qualified to give advice. The best advice I can give  is don't get overwhelmed by what other people have achieved and what other people have done because I think as soon as you
start looking at the big picture, you start looking too much at what other people are doing and seeing all the great work that's out there you almost become paralyzed. I think that is one of the reasons I have been successful with my pottery is that I haven't really delved into the world of pottery and that nativity  has been a bit of a bonus because I have listened to my own voice.
FAVORITE BOOK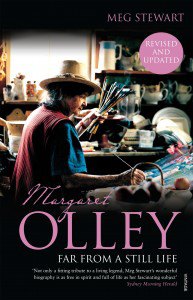 Margaret Olley Far From a Still Life
HOW IS YOUR DAY SPENT AS A POTTER?
At the moment it changes. Before my Etsy feature I had a lot more time just creating. At the moment I am struggling to catch up with orders. When it calms down, generally,  I get up in the morning and do computer things, answer emails and check Etsy. Because we are in a different time frame I have to catch up on a whole night's worth of conversations and emails. Everything happens
while I'm sleeping. Then about nine o'clock that is my time for making. I definitely set aside nine o'clock to say two o'clock for full on making. Then the rest of the day is broken up depending on what stage I am at, if I have a whole lot of things that need to be glazed, and a lot of my patterns I do with wax. So there may be an hour of just putting on the wax patterns and everything is at different stages.
The hard part is that everything is at different stages so after the making part there are a lot of other things to do. Then there is packaging and shipping. Usually I do that at night when I'm tired because I don't have to think about it. I leave the book work and paper work until night time and usually do a lot of it in front of the TV. I will get out for a walk or a skate to help straighten my back up, I realize my back has been sore since I've been doing a lot more pottery. For a potter you really have to keep your body strong, don't you?
CONTACT