Podcast: Play in new window | Download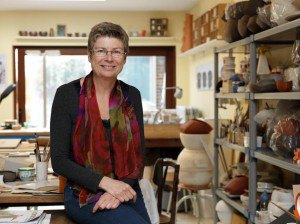 Ann Van Hoey was born in 1956 in Belgium, where she lives and works. Many times awarded in international competitions, her work is exhibited in major galleries and her pieces are in the collections of international museums. Her works, of great simplicity and elegance, are extremely impressive in their perfection, their fragility and their featherweight appearance.

SPONSORS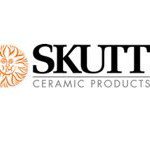 Number 1 brand in America for a reason. Skutt.com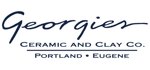 For all your ceramic needs go to Georgies.com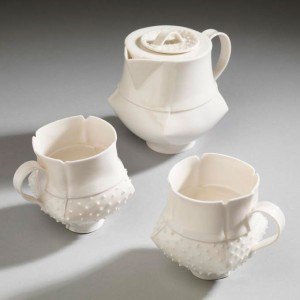 WHAT DO YOU DO TO KEEP YOURSELF INSPIRED?
Work. My ideas come while I am working. I am not a person who goes out in nature and thinks, Oh, I should make this or that. It is while I am in the studio making one thing that I get the idea for another thing.

WHAT DO YOU LISTEN TO WHEN YOU ARE MAKING?
I listen to the radio. Pop music. The station I listen to has contemporary music and also music from the 70s and the 80s.
WHAT IS ONE OF THE TOOLS YOU LOVE TO USE IN YOUR STUDIO?
My scissors. I cut my clay. First I had one pair of scissors and now I have a big pair of scissors that a friend of mine found at the flea market. They are old scissors from a tailor.
WHAT ADVICE WOULD YOU GIVE TO A  SOMEONE THAT WOULD LIKE TO BECOME A POTTER?
Start to believe in yourself because that was something I didn't have for a long
time. It only started to happen the moment that I believed that what I was making was worth trying. Other advice is to work hard. Very hard. There is so much to do. It is a full-time job.
FAVORITE RESOURCE
Ceramic Art and Perception Magazine
WHAT DOES YOUR DAY LOOK LIKE AS AN ARTIST?
I try to start early in the morning in the studio because if I don't start in the morning then I find there is not much happening any more. This is also because
my work is in two parts. At first I have to make my slabs then I put my slabs in a mold then when they are in the mold I have to wait a few hours before I can continue the process. If I have to wait until the next day the clay is often too hard to be able to cut and fold. That is why I start in the morning and then I have a few hours in between when I work on the computer and do my other stuff. In mid-afternoon I go to the studio again to finish the work.  My time is about 40 percent making and 60 percent the other not so pleasant work. (working on email, working with
galleries, shipping etc.)
CONTACT