Podcast: Play in new window | Download
Gillian McMillan grew up in rural England, attended teacher training college in London, taught there for some years and then emigrated to Canada. After a year's teaching in Montreal she headed west, to Vancouver. She
married Alan, an archeologist, they bought the 1914 house where they still live in Port Moody and had two sons. Meanwhile Gillian was taking pottery classes, teaching pottery and selling her work at craft fairs. At age 48, she was accepted at Emily Carr College of Art & Design and earned her BFA in Ceramics. Now, twenty years after graduating she has become known for the colourful jugbirds she sells at galleries on Granville Island and at Vancouver Airport.

SPONSORS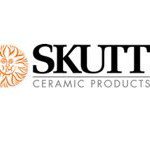 Number 1 brand in America for a reason. Skutt.com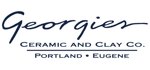 For all your ceramic needs go to Georgies.com
WHAT DO YOU DO TO KEEP YOURSELF INSPIRED?
I do follow a number of websites and look at pictures of what other people are doing and I'm on Facebook. I also have become a bit of a bird fanatic. If I see a really interesting bird, the color or the or the shape, I think I wonder how that would work  as a bird and as a jug. I will do a drawing and decide how many parts will it take and how many pieces shall I throw. Then I have such
fun putting it together. After I throw them, then I have to trim them and I like to show the throwing marks so people know know they are not made in a mold and not from slabs but made from real thrown bits.

WHAT DO YOU LISTEN TO WHEN YOU ARE MAKING?
I listen to CBC Canadian radio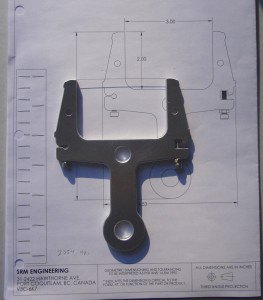 WHAT IS ONE OF THE TOOLS YOU LOVE TO USE IN YOUR STUDIO?
My son is a mechanical engineer and he made me a really good cheese cutter/clay cutter. When I've throw a slab into one of my molds then to run around the edge you have the piece on a banding wheel and you have this cutting tool and you go around the edge with it to trim the plate.
WHAT ADVICE WOULD YOU GIVE TO A  SOMEONE THAT WOULD LIKE TO BECOME A CERAMIC ARTIST?
If they would like to make it a career, I would recommend that they go to school and
get a broad background in technique. It is really important to choose which place to go to. Look for a  good community college.Locally, in Vancouver we have a few colleges with really good ceramic programs.
RESOURCE
WHAT DOES YOUR DAY LOOK LIKE AS A CERAMIC ARTIST?
I am not a production potter any more so I may not be a good guide for a how a day goes for a successful potter. I am lucky and I have a roof over my head and things are paid for so I am making these for fun . It is a privilege and I know that, but I can make things that I really want to make.
For throwing, I will go for two hours and that is all I will do. I will make maybe ten things that wind up being parts for
four big birds. Then I will extrude spouts and that might be all I do that day. The next day I will check the bases of them and start putting the spouts in and that is all I might do that day, because it is rather time consuming. Another day I might put handles on all of them then the next day I might start painting them. So there is a week for getting half a dozen or up to ten done.
CONTACT