Podcast: Play in new window | Download
Kathy Catlin calls herself a Part Time Potter With A Full Time Passion! Located in rural upstate New York, you can find Kathy in her barn studio most weekend and vacations from her full time job as a High School Social Worker. Kathy creates functional stoneware pottery made on the wheel, which she claims is the key to her sanity!
SPONSORS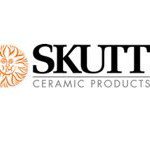 Number 1 brand in America for a reason. Skutt.com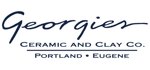 For all your ceramic needs go to Georgies.com
WHAT DO YOU DO TO KEEP YOURSELF INSPIRED?
My customers inspire me the most. They are the ones that are asking me to try and make something I haven't made before or they have an idea. Also they just seem to like what I do which makes me happy and keeps me going.
WHAT DO YOU LISTEN TO WHEN YOU ARE MAKING?
I will sometimes have HGTV on. I have the Bravo network on. I watch crap TV that I don't have to focus a lot on but can be entertaining. Or sometimes I rise to my higher self and I do have some audio lectures I listen to.
WHAT IS ONE OF THE TOOLS YOU LOVE TO USE IN YOUR STUDIO?
I have a huge collection of Tibetan wood blocks that I decorate my pottery with. Probably my favorite period with the clay is during the leather hard stage when I can decorate my pots with these wood blocks.
WHAT ADVICE WOULD YOU GIVE TO A  SOMEONE THAT WOULD LIKE TO BECOME A CERAMIC ARTIST?
I think it's a good idea to get exposure to some of the traditional, of course I'm a functional potter so that in perspective. I am a believer in the traditional functional potters from back in the day, Daniel Rhodes, Val Cushing, cynthia Bringle, all these guys who were there in the early 70s. Get familiar with that and then get exposed to some of the more modern day functional potters as well. Try not to put a lot of pressure on yourself to be somebody you are not. Just trust that you will find your way with your style. It will come, just keep making pots.
BOOK
The Complete Guide to High Fire Glazes


WHAT DOES YOUR DAY LOOK LIKE AS A CERAMIC ARTIST?
I will put together a batch of a pound and a quarter balls of clay and I will just crank out a bunch of mugs just to get started. Today was a day that all day I was working on the bisque ware, grinding it down, washing it down, waxing and so on. I will be glazing over the next couple of days. So it sort of depends on what phase I am in with the clay.
CONTACT