Podcast: Play in new window | Download
Patrick Noe | Episode 46
Patrick Noe graduated in 1980 with an art major from the College of Charleston in Charleston SC. Patrick's emphasis was on painting, but he also took sculpture and printmaking. After college Patrick worked in clay for 20 years but wanted to get back into painting without having to give up clay.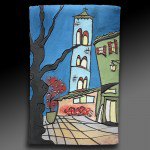 He started to experiment with using woodcuts to create relief in clay slabs and then painting and firing them in his kiln. This technique grew more refined and complicated and into the unique art form that Patrick produces today.
SPONSORS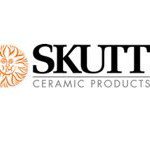 Number 1 brand in America for a reason. Skutt.com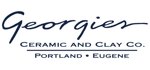 For all your ceramic needs go to Georgies.com
HOW DO YOU  KEEP YOURSELF INSPIRED AS AN ARTIST?
I have all these ideas that float around in my head and they just need to come out. Often times, if I'm not inspired, going to see other people's work really can inspire me, especially in museums or shows. When it strikes me, it enlivens something within me. It starts reconnecting ideas within me. On a more personal basis, I practice meditation daily and a lot of time in my meditation I'll have ideas or I will get inspired.
DO YOU REMEMBER A MISTAKE YOU MADE?
As I get older, I get more cautious and perhaps take a bit less risk. I try to work out my ideas and check with other people as much as possible before I bring it out to the consumer. But if it's just me just trying to work out ideas, yes, I go through a lot of mistakes. I think that is just part of the creative process in working out your ideas.
There is also the other end of it and that is the happy accidents. You thought it was a mistake but on a second look at it you think wait a minute, this has qualities I could use. 
WHAT IS ONE OF YOUR FAVORITE TOOLS YOU LOVE TO USE IN YOUR STUDIO?
I would have to say my slab roller. Apart from that it is all the little things I have collected to make impressions in clay and I have favorites.
WHAT ADVICE WOULD YOU GIVE TO SOMEONE WHO WANTED TO MAKE IT AS A CERAMIC ARTISTS?
It is not going to be as easy as you think. There is a lot of things to learn about working with clay in big flat slabs because clay would rather be rounded. There is a whole set of problems from warping to cracking. You have to figure out how to overcome those. It has been a hard road for me.
BOOK


The Potter's Dictionary of Materials and Techniques by Frank Hamer
WHAT DOES YOUR DAY LOOK LIKE AS A CERAMIC ARTIST?
With each painting I have the philosophy that I am going to do the very best that I can with what I am doing right now because that will show in the work. If I cut corners, which I have done a lot in the past, it shows and I think the marketability of it becomes a lot less. I really don't want to put something out that somewhere in me I feel it is second rate. I only want to put out the best I can.
My day starts in the studio at about ten o'clock. I will work until about six thirty or seven.Then I am done with it until the next day unless I have a deadline of some kind and then I need to push myself.
CONTACT