Podcast: Play in new window | Download
Linda Bloomfield | Episode 47
Linda Bloomfield trained as a materials scientist but always dreamed of becoming a potter. She works from her studio in west London where she has designed and made porcelain tableware ranges for Liberty, Harrods and ABC Home. She throws on the wheel in porcelain and makes beautiful translucent glazes, which she puts on the inside of forms.
SPONSORS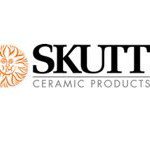 Number 1 brand in America for a reason. Skutt.com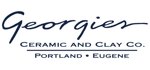 For all your ceramic needs go to Georgies.com
HOW DO YOU  KEEP YOURSELF INSPIRED AS AN ARTIST?
I look at exhibitions and art exhibitions and nature. I love looking at Pinterest. Just looking at beautiful images of the sea and sea shells. I really like sea shells and all those kind of shapes, they inspire me.  I think I am inspired by all kinds of different things. I like 1950s shapes in design and I love Eva Zeisel, she was an amazing glass and ceramic designer who lived in America. I am inspired by natural forms as well. I am not good at decoration, I like plain forms with some color on the inside.
WHAT WAS ONE OF YOUR MOST SUCCESSFUL MARKETING STRATEGIES FOR YOUR POTTERY?
I am on a website called NotOntheHighStreet.com and they really like my Mug with a Cosy. I met a girl who did knitting and she loved the shapes of my pots and she made knitwear to fit my pots. So we made this mug with a mug cosy on it and that did really, really well.  On the Not on the High Street website it sold really well
over the winter. So having something different that no one else has got, I suppose.
WHAT WAS ONE OF YOUR BIGGEST MISTAKES IN MARKETING?
I suppose I  signed up for too many shows.There are so many craft fairs and shows sometimes I feel like I'm seeing the same customers over and over again. I don't think you need to do a show every month. I used to do 20 shows in a year and I think you can do 5 shows or 3 shows and still get your work out there. You can kind of be like people are seeing too much of you.
DO YOU SEE GOING TO SHOWS A MARKETING?
Yes. You don't always sell at the show. Sometimes somebody sees you at the show- a great store will see you and place a big order, and you might not get that until six months later. So it's not just the money you make while you are at the show; it's who sees it and what kind of opportunities you might get. So I think that is marketing.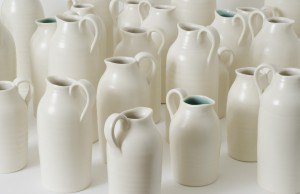 Don't feel bad if you don't sell anything while at the show because you don't know who's seen it. They might end up ordering online when it comes time for a birthday present. Just because you didn't sell it at the show doesn't mean you won't end up getting the sale.
DO YOU THINK IT IS CRITICAL TO HAVE A WEBSITE PRESENCE?
Yes. Now it's getting more and more important. Not everyone wants to buy right then and there. They are used to being able to buy it online. Everyone says, Do you have a website? I think you should have an online selling platform. After all, it's very easy now to have that platform. You can do it through PayPal, or you can be on Etsy. So it is really important to be online somewhere.
WHAT IS ONE OF YOUR FAVORITE TOOLS YOU LOVE TO USE IN YOUR STUDIO?
A wooden rib that you use to shape the pot.
BOOKS RECOMMENDED
WHAT DOES YOUR DAY LOOK LIKE AS A CERAMIC ARTIST?
I start work around 8:30 or 9 and I straight away look at my email and I do twitter and facebook for my business. So I have a look at that.  I get orders by email as well, so I check to see if there are any orders. Usually by 10 or 11 I go to the studio and that is just at the bottom of my garden, so it is not very far to go.
There's this saying in pottery, 12 by 12. You have to make 12 pots by 12 o'clock. Otherwise you are never going to get into your studio. So if you know you have made 12 by 12, you know you are on the way. So I try to make 12 pots by noon and then I would have lunch and then I would go back and do a big throwing session. So I try to make 20-40 pots in the afternoon.
I have a tea-break in the mid-afternoon. So the afternoon is my big throwing time or if it's a glazing day I would be doing
glazing. I always try and check me email again before 5 just to see, because sometimes magazines want to borrow something for a photo shoot and they want it  the next day. So if you don't check, you might miss it. So often you have to go to post office and send it straight away or get your courier to come. I would usually stop at around 6 o'clock and then have dinner.
The packing part-once a week my assistant, Georgie comes and she packs for a whole day. She comes every Tuesday and packs. She usually packs orders in the morning and then she comes in the studio in the afternoon and helps me. Also, she does my Instagram. She takes pictures of me and puts them on Instagram and Twitter. She also puts the figures into the accounting software.
WHAT IS YOUR FAVORITE TEA FOR YOUR TEA BREAK?
CONTACT