Podcast: Play in new window | Download
Jeremy Nichols | Episode 49
Jeremy Nichols grew up making and flying model aircraft leading to degree in Aeronautical Engineering(1971). Jeremy changed direction to a career in Social Work while he started making pots for relaxation. Eventually Jeremy caught the 'bug' and earned a degree in ceramics, focussing on saltglaze.  He graduated 1997 in and established a workshop on an ex-farm north of London, England. His work is strongly influenced by the early aviation interests.
SPONSORS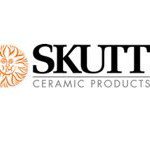 Number 1 brand in America for a reason. Skutt.com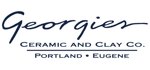 For all your ceramic needs go to Georgies.com
HOW DO YOU  KEEP YOURSELF INSPIRED AS AN ARTIST?
I try to get to as many events as I can in the kind of areas which touch upon what I do. So exhibitions, meetings, lectures, demonstrations, museums, galleries, whatever. And that can be in the realm of fine art through to air craft shows, which I still love like a little kid, and of course ceramic events. I belong to some art and ceramic societies and we organize demo days and slide lectures and speakers and this kind of stuff.
WHAT IS YOUR FAVORITE FORM TO MAKE?
Teapots. I am sold on teapots. Anything with a handle and a spout.
WHAT IS YOUR BIGGEST CHALLENGE IN MAKING YOUR TEAPOTS?
Originally in designing it was finding a way to support them during firing. When unsupported they collapse. I discovered the drawbacks to the shapes I was designing and then the challenge was to find my way through that and devise a system. So that has been the challenge and there after it the challenge has been to keep the designs interesting or stimulating as well as being functional. That is key for me, I do not want to compromise on functionality in order to get the interesting form. Form must not sacrifice functionality, so that is the other challenge in designing these pieces.
WHAT IS ONE OF YOUR FAVORITE TOOLS YOU LOVE TO USE IN YOUR STUDIO?
Well I am afraid I am a great turner. I do a lot of turning to get these shapes. So any of my turning tools. I have a variety of them so they are my prized tools. Home made and bought.
WHAT ADVICE WOULD YOU GIVE TO SOMEONE WHO WANTED TO MAKE IT AS A POTTER?
I think it depends on what your eventual aim is. Whether your aim is to pursue an idea so that you realize it in a way that satisfies you best, or whether your circumstances are such that you have to make a living out of it. For me it was achieving an idea and following through on an idea as far
as I could take it. Do not be disheartened by failures. Pursue the ideas and stick with it and work hard enough at it and eventually a solution will come. But it requires persistence and it requires attention to detail. Use the failures to discover the success.
The Architecture of the Jumping Universe-Charles Jencks
For a relaxing read:
Books by Andrea Camilleri -detective stories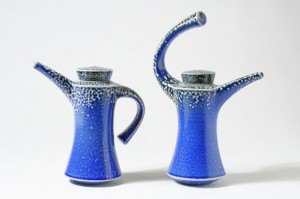 WHAT DOES YOUR DAY LOOK LIKE AS A CERAMIC ARTIST?
I work in kind of a cycle of making work for a firing. So it is about a 6 week cycle. From opening the bag of clay to lighting the burners on the salt firing. So in fact, I just started this week on a new cycle of that, so for today for example at the moment I am throwing, I  am throwing bodies of the pots. At the same time I am casting handles and spouts. So I leave home at about 8 o'clock and I get to my studio at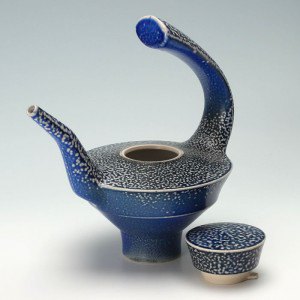 about 9-9:30. I always have a late lunch, I like to get a chunk of work done, a kind of a feeling that I've broken the back of a day's work before I can relax and have something to eat. So my lunch is normally 2 o'clock and it's back to work. I normally finish up 5 or 6 o'clock in the studio. If I have emails or admin work or writing to do often I will stop off on my way home somewhere and use my laptop to do some writing because when I get home I tend to kind of flake out a bit.  So that is the pattern and obviously throwing changes to constructing  and glazing ,maintaining the kiln, packing and firing and so on. Through the whole process I am thinking about designing shapes and new ideas.
CONTACT
 StudioPottery.co.uk-Jeremy Nichols' work