Podcast: Play in new window | Download
It all started in Jr. High art class in The Dalles, Oregon. Ms. Orr introduced James DeRosso to clay and it's been a part of his life ever since. James received his college degree in Graphic Design, but had spent a great deal of his art electives in the ceramic studio. After college, James started working in advertising, but ceramics is what he would be doing at night on his own time. A ceramics

commission job forced James to step away from his advertising job and start up a professional ceramic studio.
The specific niche of creating monsters all began when James would make small guardian creatures that he placed on top of the kiln to ward off bad results during firings. Friends wanted those creatures more than what were coming out of the kiln. James is enjoying the whole monster making niche and the kind of people that are attracted to it. James has now been making and teaching ceramics for over 20 years.
What Keeps You Inspired?
I have trouble with that actually, I have this urge just to run to my studio everyday and spend ten hours there making monsters. it actually takes friends usually to get me to go to an opening, what happens is if I do go to an opening or an art opening or a gallery opening, or even a Last Thursday or First Friday, or any of these events where I'm suddenly just engulfed in other people"s creativity, that's so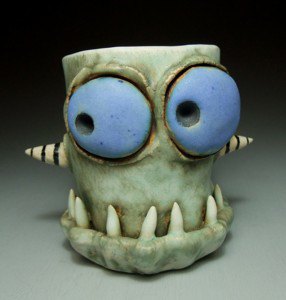 inspiring to me. It's like half the time I kick myself because I forget to bring my sketchbook with me, when I see something really beautiful and amazing I am thinking how could that be a monster and that's a lot of my inspiration, just seeing what other artists are doing in a completely different medium., not even a subject of monsters. It's just really inspiring to me to go with that in my direction.  Like I just did First Thursday and I wouldn't have even done it except two friends said "Come on, let's have dinner and walk out the door and see all the art on First Thursday." There is already two things from that I took away that I'm applying right how in my studio.
Even what you said about the deer with the antlers that went out of control, right when you were talking about it I I was picturing a monster, instead of having just one or two horns it has this whole entanglement of horns that are way too big for this monster's body….it's going to be the top-heavy monster.

What is a go-to tool for you?

I actually have my own little set of tools that I don't let anyone touch and they are always perfectly clean and they are the same tools I've had in my hands for almost twenty years now.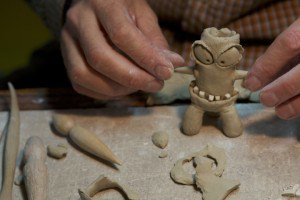 They are really burnished with use and really smooth. They are almost all wood tools. I like wood because it doesn't stick to the clay. If you have metal or plastic tools, they stick more to the clay, wood has that porous material that works really well with the clay.  With the level of hardness of the clay i work with, the wood tools work great, but I do have two, one is this like a double tear-dropped sort of round tool at one end it has a really abrupt taper, sort of a tear-drop shaped point and at the other end it has a really subtle, gradual taper to a point and it's
actually a Japanese tool that they use when they make their tea-pots. It burnishes the whole of the filter part, in the spout of the tea pot and the other abrupt one that  slightly flares the end of the spout. so it doesn't drip when you tip the tea pot back up. I found that tool at NCECA which is this annual show that happens all over the world at different locations just for ceramic artists.  I went to that one year and walked up to this booth and saw this tool and instantly knew,  oh that  is going to help me make my monster eyeballs, and that's  going to help me make the indentations that I attach parts and I actually now have that tool in four different sizes. As i've got more into monster making they got bigger, of course, so the tool had to get bigger.
The other one is just a really common wooden ceramic tool that you would buy at Georgies or any other ceramic supply place. They are all different and they are all made out of wood, some are bigger,some are smaller. I gravitate toward this one that is use constantly just for it's certain size and shape and I've had it so long it's almost like an extension of my hand.
Contact
monster8all.com