Podcast: Play in new window | Download
Jennifer discovered ceramics while in college, and has pursued it via an apprenticeship with her former professor after graduation from Defiance College in 2009. Since her apprenticeship ended, she has continued to work as part of a group at Four Corners Studio, Gallery and Pottery in Angola, Indiana. Her focus is on functional work with clean lines,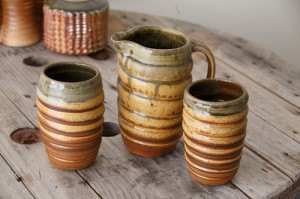 beautiful proportions and eye-catching glazes. She believes that attention to detail and form is the key to producing functional ceramic pieces that are not only beautiful, but work
What Keeps You Inspired?
I do a lot of lists, I make lists ,for me
its very hard for me to go into the studio and go hmm, well, what do i  feel like making. I don't work that way, I try to be pretty methodical about it. i'll  sit down and look at my body of work and think – all  right, i have these shows coming up.   i find for people to actually buy you need to have enough of something, but not too many that it's overwhelming. if you only have a few mugs out, or a few bowls, for whatever reason people are less likely to buy. When you have a nice collection of things that they
take the time to look. So I look at what I have, and I think about my schedule, about firing and what can get done, and I make lists, I make lists of every thing I want to get done-long term lists, like every thing i want to get done this month to be ready for this upcoming event or just what do I need to do tomorrow. I try not to work out of feeling but I try to work out of what needs to be done. If you can work out of your emotions and make a living out of it, that's fantastic,-that's wonderful. I haven't figured that out yet.
Actually, its those really cheap kinda, floppy credit cards that you get when you are pre-approved. Peel that off the paper and off the sticky strip, and i use that for smoothing out all the bodies of my pieces.
Advice for the potter.

Figure out your materials, get your materials figured out. You want to be a potter, what sort of clay are you going to use? This is one of those industries that you have to have all your ducks in a row before you get started. Where are you going to get your clay? Where are you going to get your glaze? How are you going to fire? How are you going to make all this happen? I feel like there is a fine line between being prepared before you put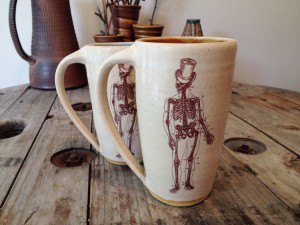 yourself out there and using,  i'm not quite prepared enough, as an excuse to not put yourself out there.
You need to have something that you like and something  you like to talk about. of course, i'm talking about someone who wants to make a living at production pottery. Have something that you are proud of, a couple of pieces that you like, use a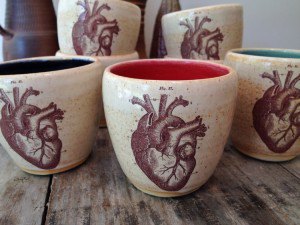 couple of colors that you like, things that you can replicate, and do well, and have enough of them, and talk about them. it doesn't really work to have one piece you think is super cool, and you don't have a way to fulfill everyone"s desire for that piece.
At the same time, don"t hide in a corner until you are perfectly ready, you have to put yourself out there.
Book


Making Marks by Robin Hopper

Functional Pottery by Robin Hopper
Contact