Podcast: Play in new window | Download
Joel Cherrico is a 26 year old potter living in St. Joseph, Minnesota. He graduated from the College of St. Benedict/St. John's University in 2010, and immediately launched a small business after graduation. For the past 4 years, he has lived in the town of his alma matter, making a living as a full-time potter.
What Keeps You Inspired?

It is hard to stay focused. One thing I do is hang out at the library a lot. I still live close to my college and St Benedict's Library has a huge ceramics section- they have Ceramic Monthly all the way back to the 70's, they have Studio Potter, they have some great films on Warren McKenzie…
So I go hang out in the library. I also go to NCECA conferences. I've been to two so far, but this past year was just awesome. You get to meet the people that you study. I've been studying Mark Hewitt and I go to this conference and he just walks right on past me! I then go to hear him give a talk about being a studio potter for a half hour. So NCECA is pretty amazing.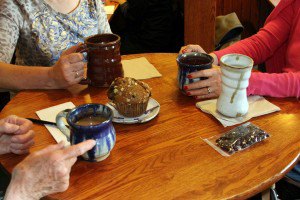 There is also a lot of value just spending time away from the business with friends and family just having fun. I've been doing an annual trip out the Rockies to go skiing. This has been a family tradition that we have been doing for years. In fact my signature on my pots is a simple line drawing of mountains. So I thing that just having fun and sports and vacation is really important because it just invigorates  your studio time.
What are your go-to tools
I try not to use too many tools. I don't use a rib on my pots anymore. I don't trim my pots anymore. That makes for a different type of a pot; it really shows a lot more hand marks. I think my work would be really different I didn't use these karatsu style wheels. A normal kick wheel is about 250lbs and I've got a wheel that is about 40lbs and my other karatsu is about 80lbs. So you kick while you throw and that makes for a different look. So I'd say the karatsu wheels are probably the most important tools in my work.
I'd say get advice from people that have been doing it longer than I have. Go meet people; meet people that are higher in the pecking order, that are making a lot better work than you, selling more work than you. Talk to them. Call them. Email them or write. Go visit them in their studios. Go visit potters. Go to NCECA; you can meet people there. Reach out them and try to learn from them.
Book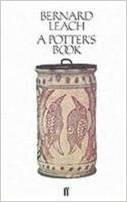 A Potters Book by Bernard Leach
Contact