Podcast: Play in new window | Download
After spending several years as a fashion and print designer, Judi Tavill found clay about 12 years ago. Judi works intuitively, investigating and exploring while working on a form. Initially creating unique functional pieces, Judi has veered off toward sculpture and is currently integrating melted glass into much of the work.
SPONSORS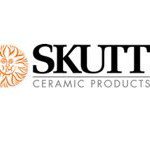 Number 1 brand in America for a reason. Skutt.com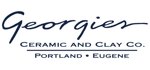 For all your ceramic needs go to Georgies.com
WHAT DO YOU DO TO KEEP YOURSELF INSPIRED?
I really like to spend time out in nature and looking around and looking at other art work, not specifically ceramics. I look at historical pieces and  I look at other craft mediums:glass ,metal, and wood. I think about  how things have happened in those mediums and how I might be able to incorporate that or take that off into a different direction in my work. And I try to meditate, it's not easy, but I try to clear my head as much as possible.
WHAT DO YOU LISTEN TO WHEN YOU ARE MAKING?
I listen to a lot of podcasts. I do listen to some books on audio books and I do listen to music. I will put in a little jazz. My son has a new album on itunes: Indigo Child.
WHAT IS ONE OF THE TOOLS YOU LOVE TO USE IN YOUR STUDIO?
I love Mud Tools sponges. When I found them I become completely addicted to them. But my latest thing has been, because I'm making all of these textures, when I've been out walking I have been picking up twigs and breaking them or finding them broken and kinda stripping the bark away and then that becomes a tool.
WHAT ADVICE WOULD YOU GIVE TO  SOMEONE THAT WOULD LIKE TO BECOME A CERAMIC ARTIST?
From a creative stand point I would say that you want to keep your mind open. When you clear your mind and walk around or look around, or go somewhere you haven't been, or travel, just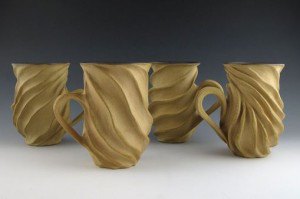 take it all in. Spend some time brainstorming about how if you had to make ten items based on something you saw today what would it be. How would you incorporate that thing that you saw today? Give yourself those exercises because they really open up your mind. Some times we wait for a teacher to do that for us when we can really do that for ourselves.
I Shock Myself Beatrice Wood


WHAT DOES YOUR DAY LOOK LIKE AS A CERAMIC ARTIST?
Right now I am a mom of two teenage boys and even though they are not under foot all the time there is a lot of stuff I'm dealing with there. So sometimes I don't get into the studio until 10 o'clock and I have to tell myself to get out of there by 2 o'clock. My studio is in my home so at first I might do Facebook and Instagram and I will come into the studio and if I have already thrown pieces I will start carving or working on pieces. Sometimes I will throw some pieces so I have work waiting for me when I'm done carving. There is a lot of in between time and I use a lot of plastic. Usually near the end of the day I may get a walk-in. Even if I get a late start ,I get in the studio because I just love it, I love to work.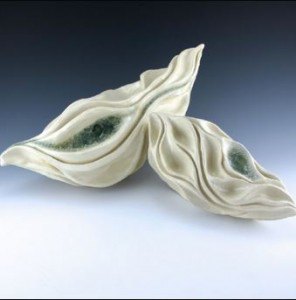 About marketing: I can get a little obsessive. I can spend a lot of time trying to market. Right now I have two shows that my stuff is in and I have work in another gallery. So I try to get the word out about the shows without being too spammy. I will email people about the shows. I will also post on instagram and Facebook and occassionally Tumblr and Twitter.  For some shows I do some post card marketing. Shipping is as needed. If it's in a show I don't have to ship it. If I am doing work online I have to ship it and my work is obviously very breakable so I am very obsessive about how I pack the work.
CONTACT