Podcast: Play in new window | Download
Julie Wiggins | Episode 133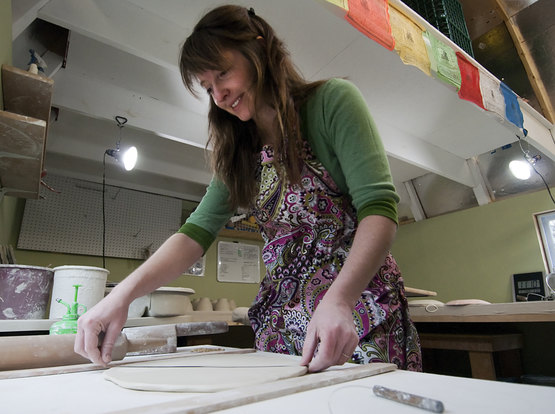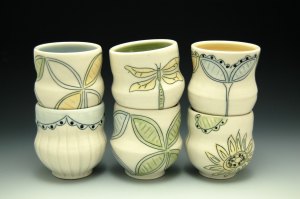 Julie Wiggins is a full time studio potter living and working in Charlotte, North Carolina.  She graduated from East Carolina University in 2001 with a BFA in Ceramics. In 2005, she received an honorary degree from the Jingdezhen Ceramic Institute in China, where she focused her studies on traditional Eastern techniques. Her work has been shown in galleries across the country, including AKAR Gallery, Charlie Cummings Gallery, Crimson
Laurel Gallery, and Lark & Key.  Julie's work has been featured at the American Craft Council and the Mint Museum of Craft + Design, as well as several national conferences and exhibitions, including NCECA.  Julie has over a decade of experience as an educator and will be one of the presenters at the Functional Ceramics Workshop in 2016.
SPONSORS
Number 1 brand in America for a reason. Skutt.com
For all your ceramic needs go to Georgies.com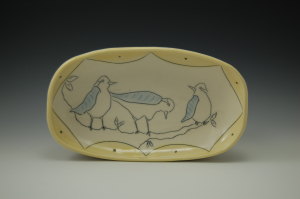 HOW DOES THE ROLE OF GOAL SETTING PLAY OUT IN YOUR SUCCESS?
It is a big component of my work. I am a big goal setter. I will work around the clock to get a deadline finished. I push myself really hard in my work. If I don't feel it in my heart, I remake it. My instincts have always lead me far and push me to take opportunities I may not have done, like going to China for four months after being married for a year. That was a big deal for me, but it was a big goal for me
that allowed me to grow both professionally and personally.  Usually, if I write it, it happens. I am a manifester.
EXPLAIN A MANIFESTER
I put a lot of mind energy toward something. I really believe that if you do that, you will eventually narrow that field and course and it's going to happen.
HOW DO YOU ADVERTISE YOUR BUSINESS?
Through social media. I do e-newsletters- I do four a year, letting my clients know where I am, what new work I am making, just anything new I want them to know about me. I really try to make that a personal newsletter. I want any people I come in contact with to really feel my voice and really know who I am as a person. I also do a lot of home shows. Luckily I live in North Carolina and we are so rich in clay. We have so many fabulous opportunities. And my Etsy site.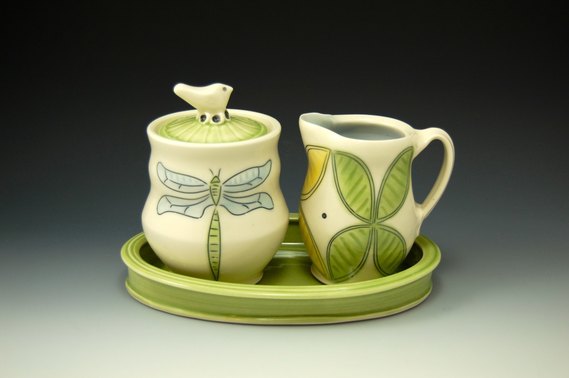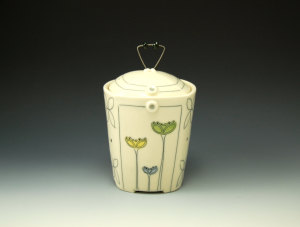 WHICH SOCIAL MEDIA DO YOU USE THE MOST?
Facebook and Instagram. On Facebook I have a personal account and I have a fan page. But I teeter back and forth about what I put on each, but I think transparency is important. I find that people trickle back and forth. The way Facebook works is funny so I think it is important to work both.
Instagram I think is really fabulous because it is a visual diary. I don't feel like I have to commit to anything other than just putting my picture up there. I use that mainly as my process page showing people how I am working through a form or a drawing. That invites the viewer even more- they want to see what happens next and how it comes through the firing.
DO YOU ACTIVELY PURSUE BUILDING AN EMAIL LIST?
Yes. At all of my events I have my book out and I ask people for their contact information. I let them know that I would love to have them on my email list and I let them know that I do not abuse it or give it to anybody. But if they want to hear about first picks of what's happening in the studio or know where I am going to be, then I ask them to please sign the list. I use MailChimp and I can add them through my phone.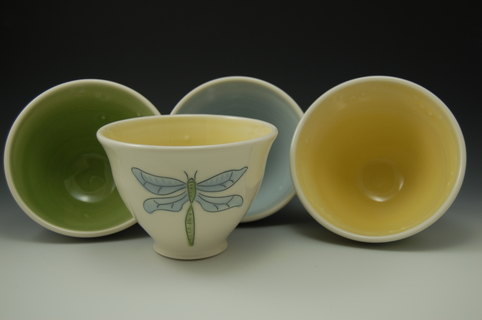 HAVE YOU EVER TURNED DOWN A CLIENT?
Yes. It is usually the design or the drawing they want. I make from my heart and it's authentic. Once that person takes that from m (Can you put a Dachshund on there. You have Dachshunds. You can draw. Put a Dachshund on there for me), that goes against everything that I am. It's cutesy and it's funny and I might make Yoda cups for my nephews for Christmas, but I stand behind my work because I've resolved it. So when a client asks me to do something that is in their mind or in their head, it will never be the same or what they want. I've never run into anybody that has had success with that.
IF YOU HAD TO START ALL OVER AGAIN, WHAT ONE THING WOULD YOU IMPLEMENT TO GET BACK IN THE GAME AGAIN?
Out of the gate I would get my website in place. I think online presence is super important. Not everybody is on Facebook, not everybody is on Instagram, but everybody is online. All you have to do is type your name and your website comes up. I think that is the easiest way to find me. I've had clients contact me because they'll type in Charlotte Pottery and I pop up and they have called me for Christmas gifts and presents.
BOOK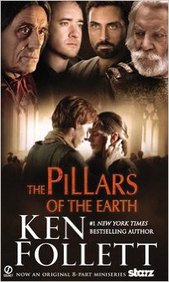 Pillars of the Earth by Ken Follett
CONTACT