Podcast: Play in new window | Download
Sunshine Cobb | Episode 111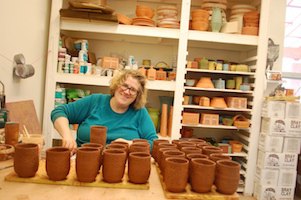 After a short stint at Chico State University, California, Sunshine Cobb went on to graduate with a BA in Studio Art from California State University at Sacramento, in 2004. Ceramics has been the major influence in Sunshine's life for 15 years now. Currently Sunshine focusing on functional ware, embracing the richness of earthenware, and is exploring the challenge of electric firing. Sunshine graduated from Utah State University with her MFA in Ceramics. Sunshine is in the process of setting up shop in California.
SPONSORS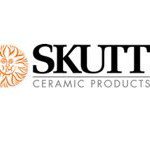 Number 1 brand in America for a reason. Skutt.com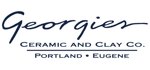 For all your ceramic needs go to Georgies.com
HOW DO YOU STAY INSPIRED WHEN YOU ARE MAKING THAT MUCH VOLUME?

For me mugs are one of this funny thing of they are one of my favorite objects to make but it was funny to sit down and make 500 mugs in a period of time. For me it is a very meditative moment and a rhythm that I get into when I make mugs. They are part of what I do,they are not my super high creative moment, they are much more calming, meditative moment for me.
HOW DO YOU KEEP THE BALANCE WITH TEACHING AND STUDIO WORK?
I don't know that I do keep the balance there. I have learned that I need to try and schedule one thing a month. Sometimes that doesn't quite work. Summer time tends to be really busy obviously. Luckily I am not a person that needs momentum. I can just jump in and start working and so that has served me well.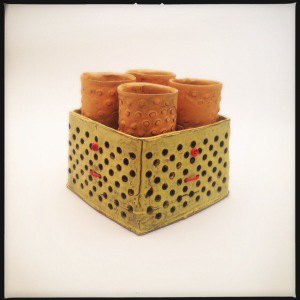 WHAT DID YOU DO TO BE ABLE TO FIND YOUR VOICE OF DISTINCT SUNSHINE POTS?
It is a journey, there is no one thing. A lot of what I found with my work is it connects
emotionally to people. That is one of the ways I approached my work, there is something about the nostalgia and color and surface that play a big part in my work. I got some great advice from a workshop I attended, setting an intention. I wrote on my chalk board words I wanted to describe my work: grace or quiet or happy. I really picked a few I felt embodied what I wanted my pots to achieve and I just left it up there and I worked. So when things got close to what I wanted, I started to keep them and narrow that down a bit.
WHAT DO YOU LIKE ABOUT YOU?
It's funny, I have had some crazy stuff happen here the last couple of days and thinking about how as a person I have worked on myself a lot. It's not like I have not had any adversity and I appreciate that I have actively tried to be a better person, being generous with my patience and understanding of people and their situations. It is always a constant struggle to try and be a person that embodies those things. I appreciate that I have had people in my life that have helped show me a path that makes me a better person.

GIVE SOME ADVICE FROM A TEACHER'S PERSPECTIVE TO A STUDENT WHO WANTS TO BE
SUCCESSFUL.
Advice is hard. I feel like you just need to work hard. You need to find out what your goals are. I think having a goal is important and making sure that goal is worth going after. If you have  a passion for clay don't give up, follow it. Be careful about jumping your work into the real world before maybe you are ready to, before you have given yourself a lot of time to grow. Trust your teachers and if you don't trust your teachers, find new teachers.
BOOK RECOMMENDED TO READ
American Gods by Neil Gaiman
Contact