Podcast: Play in new window | Download
Ted Secombe | Episode 113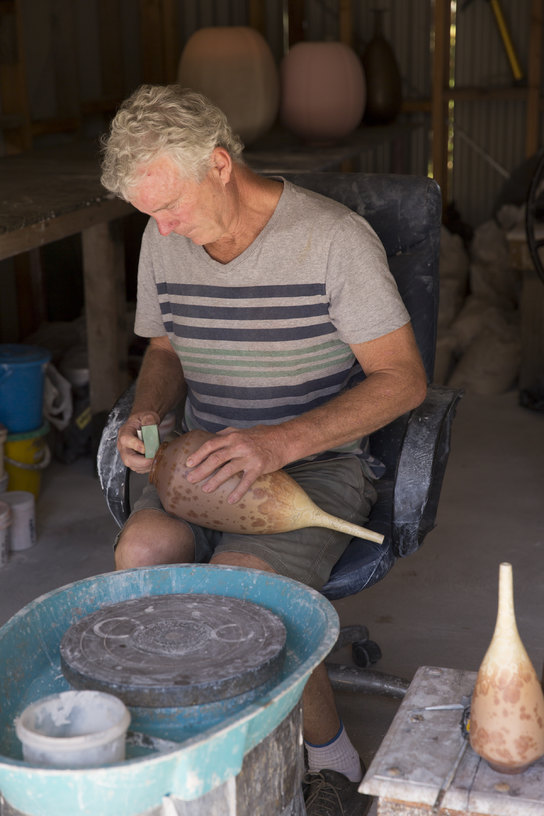 After 3 decades at his potter's wheel, Ted Secombe says that making pots is more challenging now than when he first began, as his motivation is the purely the expression of his ideas and creativity. He has now developed a mastery of the medium that allows him to take his experimentation further than ever before.
Ted likes to work with different shapes and now prefers much simpler forms, forms with the sense of an easy curve, 'like a brush stroke'. 'My inspiration comes when the clay is on the wheel and I am looking at the sensuousness of the curve,' he says. Sometimes he is influenced by the structure of plants and leaves. While the grace and size of the pots is impressive, the glazes Ted uses are rich in color, and delicate in texture and patterning.
SPONSORS
Number 1 brand in America for a reason. Skutt.com
For all your ceramic needs go to Georgies.com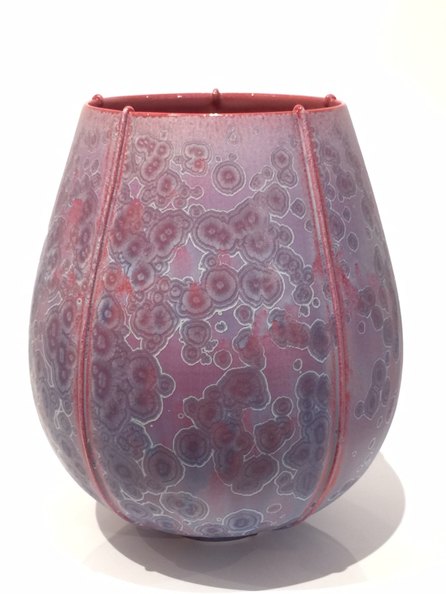 HOW DO YOU AFTER 37 YEARS FIND INSPIRATION TO MAKE YOUR WORK?
I actually reached a point in my 32nd year of making pots where I couldn't find any more inspiration. I thought I did not have any more to say, so I took a sabbatical and took time out to build a house. For two and half years I built my house with my son which was quite an experience. In that time I got over not having any inspiration left and I thought, well rather than get back into pot making I will make sculptures. I give myself opportunity to make beautiful things and when they happen, they happen.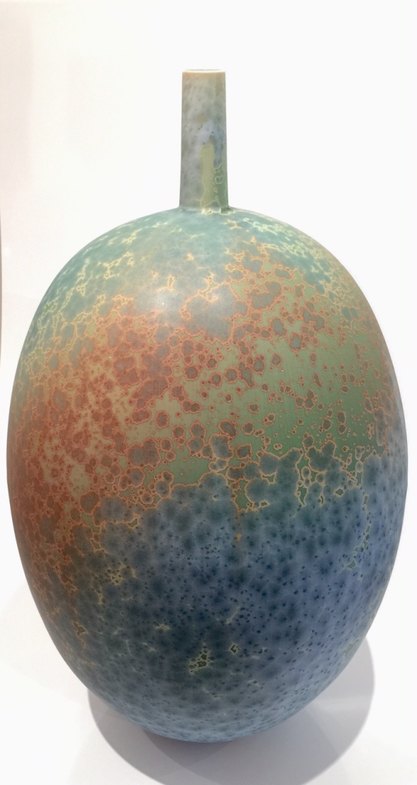 WHAT KIND OF PROCESS TO GO THROUGH IN ORDER TO FIND THE COLORS THAT YOU WANT?
It's very, very straightforward actually. A lot of the greens and yellows and whites are just using an inclusion of oxides into the glazes in titanium as well.  (listen to the podcast for more details)
DO YOU HAVE A FAVORITE FORM THAT YOU LIKE TO MAKE?
I love bottle forms but I am constantly shifting the emphasis of the curves. Sometimes the curve will be low and sometimes the curve will be up high.  I was exposed, living in Asia when I was a little boy, to beautiful porcelain and that influenced me quite a lot.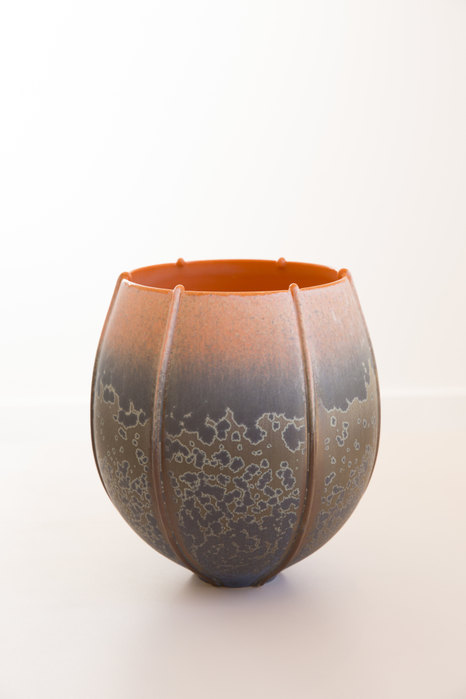 WHICH MARKETING VENUES DO YOU FIND TO BE MOST LUCRATIVE?
I have always had a conscious eye on different opportunities in marketing. Many years ago, for instance, I am a very keen gardener, in the winter time when the garden is in the dormant stage, there is not a lot of beautiful ornamentation available for the garden. There was nothing going on here in Australia for beautiful garden work so I created  those lovely old stone lanterns you see in Japan but in a really beautiful crystalline glaze. I also made water stones and big water fountains and giant pots for gardens when I used to throw really, really big work.  My first exhibition of the garden pieces I had 40 items and by the end of the day 35 were sold.  That was one avenue, the other avenues were the corporate market, the galleries, and I have a studio show.
WHAT ADVICE WOULD YOU GIVE TO AN ASPIRING CERAMIC ARTIST WHO IS TRYING TO MAKE A LIVING AT THEIR CRAFT?
To keep practicing and keep making pots. Keep on testing the variables. Every so often something really beautiful jumps out. Those sorts of highlights drive you forward.
CONTACT