Podcast: Play in new window | Download
Connee Mayerson | Episode 116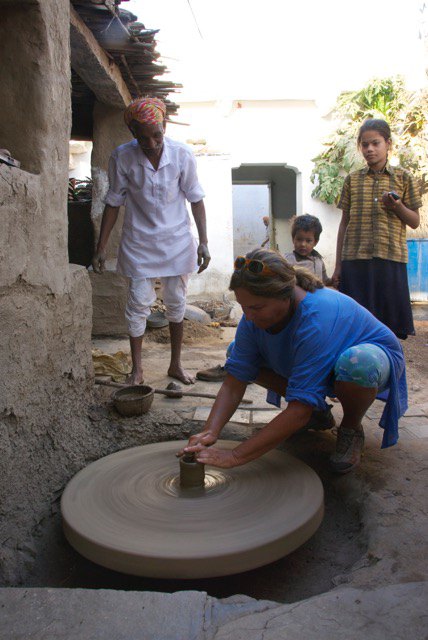 Connee Mayerson has worked as an artist for 43 years, primarily in ceramics. Connee makes high fire, one of a kind, functional porcelain pots. Connee's work is organic and her influence is everything that surrounds her. Connee also works in stone mosaic public art, shell work, and figurative painting in water colors and egg tempura.
SPONSORS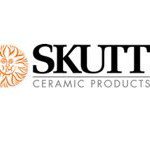 Number 1 brand in America for a reason. Skutt.com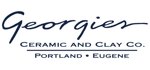 For all your ceramic needs go to Georgies.com
HOW DO YOU KEEP YOUR CREATIVITY FRESH WITH SUCH A LARGE AMOUNT OF MAKING?
I have a studio assistant that has worked with me for 18 years and one of the things she does is she weighs out balls of clay for me. So let's say I'm making a set of dishes, she'll make 16 five pound balls clay for my dinner plates. I am looking for that vibrancy in the clay and after the piece is thrown then depending on what I am making I will alter the form some how. When you are sticking your hands in clay that is somewhat wet, things happen quickly. I work with porcelain mainly, so you have to be decisive.
I try to make big,visual decisions earlier in the day when I'm not tired and I do things like mixing slips and trimming at the end of the day when the decisions aren't as spontaneous and they are not as critical.
HOW DO YOU FEEL BEING AN ARTIST HAS CHANGED YOUR OUTLOOK ON LIFE?
I think giving myself permission to develop a creative and intuitive part of my being. It puts one foot in front of the other, every day forward. I am not interested in rescuing anyone. I am interested in an exchange. I am really excited about people that are alive and looking at things and really considering them in a new way. Being an artist keeps me in tune with vitality.
DO YOU THINK SOCIETY SHOULD BE FUNDING ART THROUGH PUBLIC FUNDS?
I think the word should, shouldn't exist. I don't think that anything should be imposed on a culture other than civility. No, I don't think it should be funded but I think as a culture we need to take very seriously enlightening, sensitizing, and educating our population.
HOW IMPORTANT ARE GOALS IN BECOMING A SUCCESSFUL POTTER AND HOW DO YOU USE THEM?
I think that becoming a successful potter or artist you have to understand what are your goals. I do not aspire to having a show at the Metropolitan Museum of Art because my goals have been to have something that I can do in my life that is somehow a contribution in the world. A big part of my life goals are my family and fellow human beings. My goal is to try and stay balanced with my life and my work is a part of that. My non-artistic friends make comments that  you are so self-disciplined. I say actually the discipline for the artist isn't going to their studio, it's leaving their studio.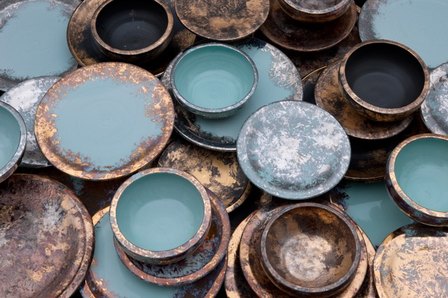 CONTACT