Podcast: Play in new window | Download
Robbie Lobell | Episode 77
Robbie Lobell lives and works on Whidbey Island in Northwest Washington. Lobell is the co-founder, designer, and maker of Cook on Clays high-fire flameproof cooking pots. Cook on Clay, committed to sustainable local economies and food systems, collaborates with farmers, chefs, home cooks, and restaurants across the country. Lobell's pots reside in kitchens and on tables across North America and beyond. Her work is featured in
magazines and books about utilitarian pottery, cooking vessels, and making pots.
SPONSORS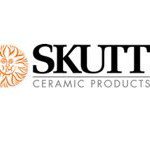 Number 1 brand in America for a reason. Skutt.com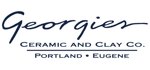 For all your ceramic needs go to Georgies.com
HOW DO YOU KEEP YOURSELF INSPIRED?
I find that such a hard question. My inspiration at this point in my career has to do with food, really quite honestly, and how food is prepared and how can I change and work with a vessel that is going to be used in food preparation and not have it look like, but have it  perform like, a cast iron pot. So I am going to say that my inspiration has to do with the relationship between food and pots.
In a larger more general way, the natural world is an inspiration. I live in a place of beauty. I do not live in a city, I live out in the country. The changing environment where I live inspires just a general sensation that then not probably consciously, but unconsciously imbued in the work. I would say simplicity is really important to me. The simplest I can make a line or volume,I will.
WHAT IS YOUR BIGGEST CHALLENGE IN WORKING WITH CLAY?
I would say at this point in my life it is the physicality of it. Although I have done a lot to work ergonomically, including using really soft clay, using a mirror, and I stand up when I throw. It is harder and harder for me to do 12 and 14 hour days and recovery is a little bit longer.
WHAT ADVICE DO YOU GIVE TO AN APPRENTICE COMING INTO YOUR WORLD?
Patience. I think clay in a material that requires patience. If you need to see a result right away, maybe you need to raku, that's OK. But if  we are working toward a personal. visual language that is imbued into the pots then one of the things you need to do is be patient and you need to allow the process to evolve. Learn from the process as oppose to impose on the process. That is number one. Number two, I would say, flexibility. We like to think and know for security sake, that things are going to come out the way we think they are going to come out. Some times the idea and the
actuality is really pretty different. I don't know about you,but for me, and I still know people who have been in the field longer than I,when you unload a kiln it takes awhile to love the pots. Some times it's immediate but often it isn't. Flexibility in both our thinking and our seeing and our willingness to move physically with the process.
TELL ME WHAT YOUR DAY LOOKS LIKE AS AN ENTREPRENEUR AND AN ARTIST.
I wake up, I tend to wake up kinda late. around 8-8:30. The first part of my day, and that will be any where from an hour to three or four hours, is at the computer and at my desk with correspondence, paying bills, talking to vendors, returning emails, and making phone
calls. Then I usually go into my studio and I have studio time from late morning, early afternoon, through early evening. Now depending upon the cycle I am in, in terms of making, glazing, firing. depends upon what I am doing in the studio and how long I am spending in the studio. So that might be four days a week at this point, sometimes five days a week and then one day a week I am teaching, I have a class I teach here with a group of women that have been with me for several years. So about a day and a half I am teaching and mentoring. Monday Mornings we have team meetings so the apprentices, myself and my partner, we get together and talk about the week. I have other interesting things that come up that I do, but if I do not get into the studio for more than a week I get a little squirrely. I really do need to keep my hands in the clay.
In Praise of Shadows
CONTACT