Podcast: Play in new window | Download
Osa Atoe | Episode 199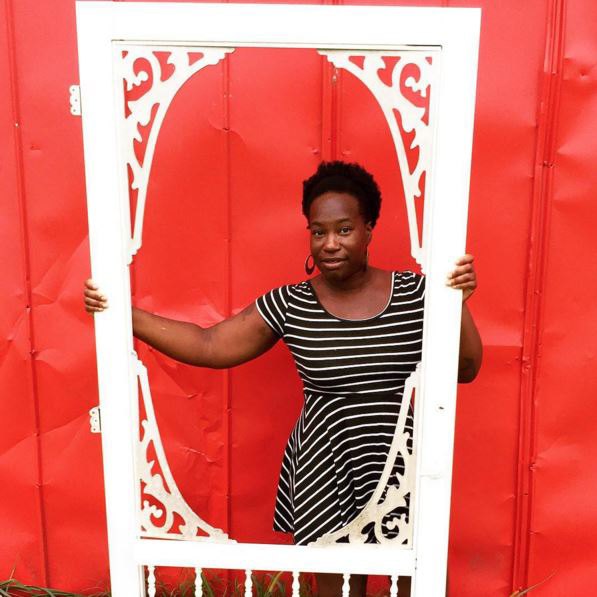 Osa Atoe started taking community pottery classes in New Orleans in the fall of 2012. Osa quickly became obsessed with the medium so she made a small in-home studio for herself in the spring of 2015 and Pottery by Osa was born! Osa makes handmade terracotta pottery inspired by her love of simplicity and geometric patterns. Osa is influenced by African and Native American ceramic traditions, folk art of all mediums, and the work of other contemporary artists and craft people. Osa makes functional ware for everyday use, including drinkware, dishware and household items such as planters and vases. Osa's goal is to bring the creativity and intentionality of handmade crafts to everyday rituals. She loves expressing herself creatively through practical, functional forms. Osa also makes all of her glazes.
SPONSORS
Number 1 brand in America for a reason. Skutt.com
For all your ceramic needs go to Georgies.com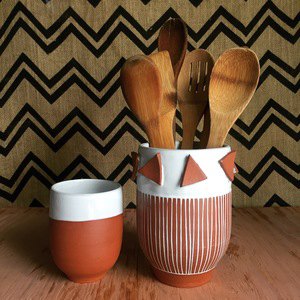 What role does the artist play in society?
I think artists play so many different roles. I struggle with that question just a little bit because I've always been concerned with civil justice to a certain degree. I actually wanted to be an activist when I was much younger, which is why I have a sociologist degree. I was really interested in understanding social inequality and tried to think about what I could personally do to help make the world a more fair place. But the way my art comes out, even musically, it is more of an idealistic representation kind of like this inner harmony that I tend to express more than the strife or unfairness. Whereas I am really attracted to art that comments on or reflects the strife and acrimony and injustice that exists in the world, but I don't tend to make it.
Art plays so many roles and can be used to open one's eyes or raise awareness and express an ugly truth. Or art can express an ideal or a fantasy of harmony that exists in moments. But regardless of what your art expresses, I think you can use it to better your community.
How does handmade ceramics better the world?
That is an interesting question because handmade ceramics have always been around. So they are just part of the world. Asking that question is almost like acting like they came later. But they have always been part of human society. So they just are a very functional part of the world. But I think in this day and age handmade ceramics forces us to be a little more intentional. You are choosing this object intentionally because if you weren't you could just go to Target and get something for 5.99.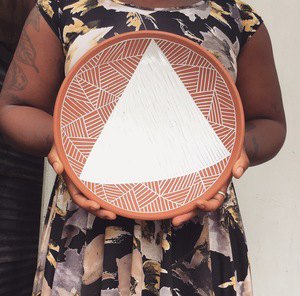 How has your past influenced your work today?
I am an unusual person. Within the punk scene there is more and more women involved all the time, but it's not considered the norm. And there is not a lot of people of color in punk. And I think my version of punk is different from bands like The Ramones or Green Day or something like that. I was always gravitating towards bands that played interesting and weird and experimental. So I see a tie with my version of punk and the art that I make.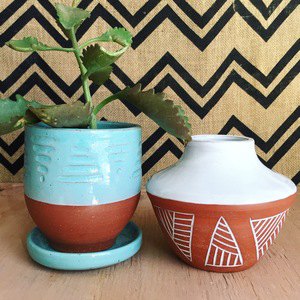 What do you want people to feel when they are handling your work?
An earthy texture. "This is a think that I can use all the time." I am not interested to making things that are delicate or lacy because that is not how I am. I am actually kind of a rough person so I have kind of had to relearn how to handle things and touch things. So I envision people holding one of my bowls in their hand, and that goes with the informality of the work.
There is a sense of chaos in punk music. How has ceramics helped to center you?
I think it has helped me feel more focused and grounded over all. It is definitely a lifestyle change. Being in bands means that you are up all night and you are in loud social environments. But now I am in quiet asocial environments.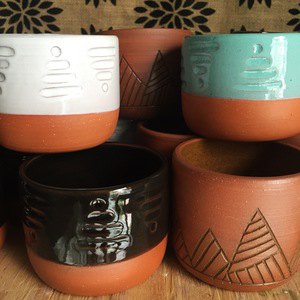 Book
The Chosen Path by Deborah Joyner Johnson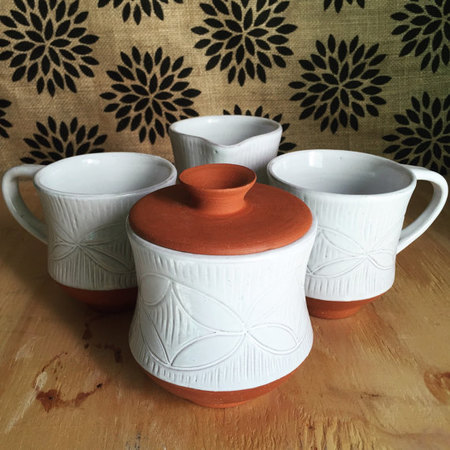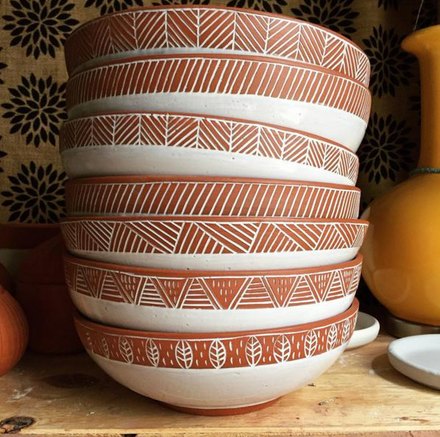 Contact
Instagram: @osa_atoe