Podcast: Play in new window | Download
Lesley McInally | Episode 293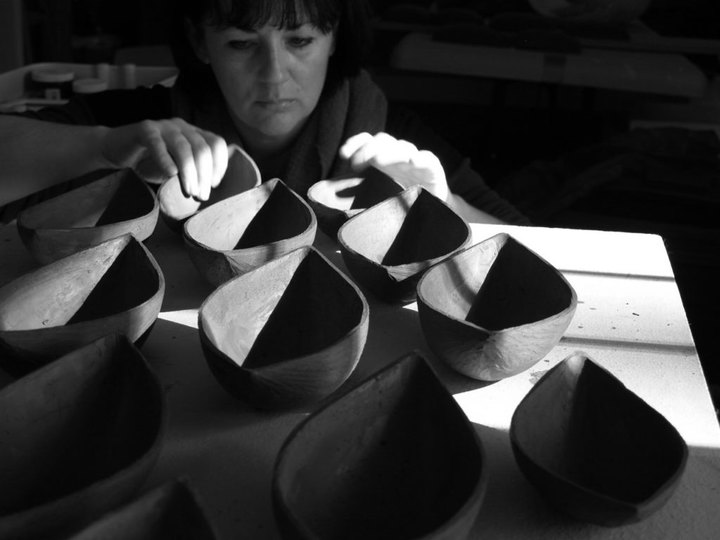 Lesley McInally completed her Bachelor of Design Honours Degree in Ceramics and Printmaking at Dundee University, Scotland. For the first 8 years of her career she worked as a full time professional ceramic artist producing both functional and decorative ceramics for galleries throughout the UK. Additionally she taught ceramics in various educational environments both to adults and children. In 2004 she immigrated to Canada where she continued her studio practice in Cookstown, Ontario. Since arriving in Canada Lesley developed her unique style of stretched slab hand built paperclay sculptures and vessels which contain a rich depth of surface texture. Incorporating her printmaking skills she has also developed a highly tactile surface using coloured porcelain slips, underglazes and a mono print technique. She continues to be invited to demonstrate her intriguing working methods to numerous guilds, educational establishments and arts associations throughout Ontario. Lesley has been the recipient of numerous prestigious awards and grants and exhibits her work nationally and internationally.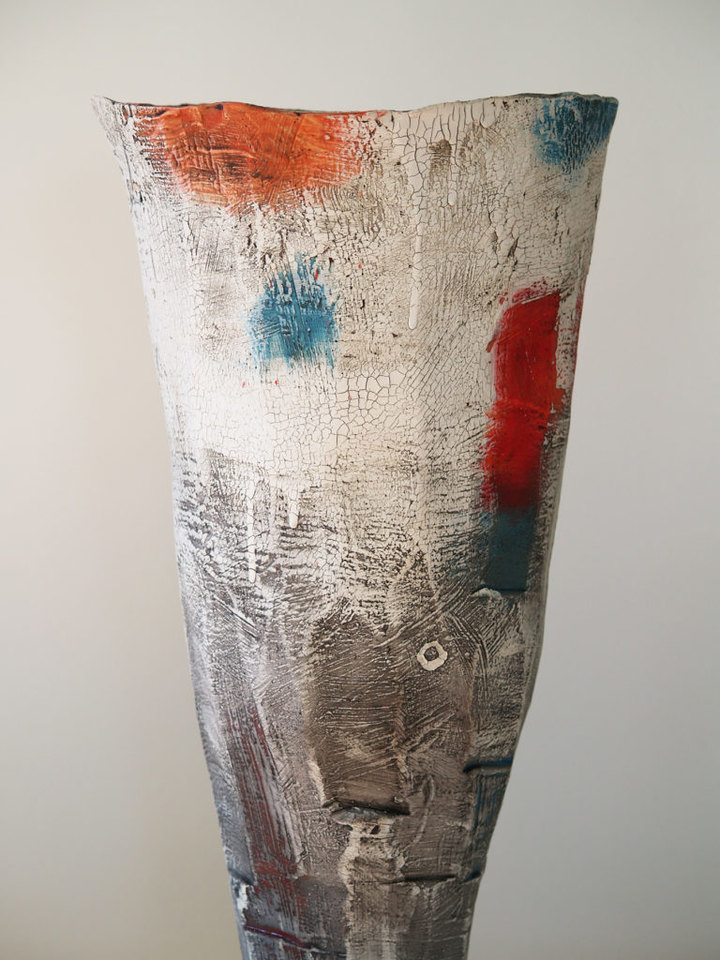 SPONSORS
Number 1 brand in America for a reason. Skutt.com
For all your ceramic needs go to Georgies.com
Would you consider yourself a contemporary artist?
Yes, I would. Absolutely. I don't think the work that I make is traditional at all. I very much see it as quite contemporary.
Would you consider yourself more of an artist or a ceramicist? 
Define the difference for me.
OK.I guess that is the wrong question.  So when you describe yourself to other people what do you say?
Ceramic artist. Both. One of the same thing. The pieces I make are made of clay but they are art and they are paintings.
You say that you work with galleries quite a bit, do you prefer working with galleries to sell your work or do you prefer selling on your own?
I prefer working with galleries. I think the job they do is quite difficult. It is fine when you are doing an outdoor show and you are talking about your work when people are interested in asking questions but when you have to try to find people that might difficult. I am not necessarily a good sales person. I am good at talking about the work if someone asks me a direct question. I couldn't stop a person and try to sell them a piece of my work. Galleries that can sell my work, they do a better job than I do.
Who is your inspiration?
Well my hero is John Maltby. He has got to be one of the number one potter and artist that inspired me when I was much younger. Robin Welsh, he has been a huge inspiration with the freedom of his painting with glazes on pots. Sometimes you can be quite tight with your work and it's good to find artists that are not necessarily tight with their glazing. Robin Welsh very much for years and years has been quite expressive with his glazing.
What tool would you say you could not live without in your studio?
My knife. I have a knife that I have had for about 25 years and I use it constantly.
With your work being as organic as it is, how do you know when it is finished?
Sometimes it's the level of dryness on the piece. When I realize that it is just getting a wee bit too dry, if I add one more layer of slip I am going to screw it all up. That decides it right there and then. Otherwise I am gong to start having cracks appear that I don't want so sometimes it decides for me. Other times I just know after the last mark making or the last brush stroke that it doesn't need anything else.
If your work were food what would it taste like?
Oh my goodness. I have no idea.
Would it be dessert, a main course…?
It would be a starter. I think it would be cheese and crackers.
Book
Blackberry Wine by Joanne Harris
Contact
Instagram: @lesleymcinallyceramics